Qm Kaj Alfred Green
(1920 - 1944)
Profile
Sgt Kaj Alfred Green was one of the Danish volunteers in the Norwegian Air Force during the Second World War. He was trained as navigator and posted to 330 (Norwegian) Squadron. He was killed in action on 4 October 1944.
Kaj Alfred Green was born on 7 May 1920 in Copenhagen. He was the son of chief steward Johan Adolph Green and Rasmine Caroline Jacobine Green (née Gustafsson).[1] The family lived in Skovshoved a coastal town north of Copenhagen and later moved to Vangede.[2] Green attended primary school from 1926 to 1931, and continued his education at Det kongelige Opfostringshus, a boarding school in Copenhagen, from 1931 to 1938. He followed in his father's footsteps, and served as an ordinary seaman in the Danish merchant navy from 1935 to 1938.[3]
Danmark
Green was accepted as a cadet on the full-rigged training ship Danmark in 1939. Danmark left Copenhagen in August 1939 on the ship's winter voyage of 1939–40, setting sail for the World Exhibition in New York, and then on to the Danish West Indies (United States Virgin Islands).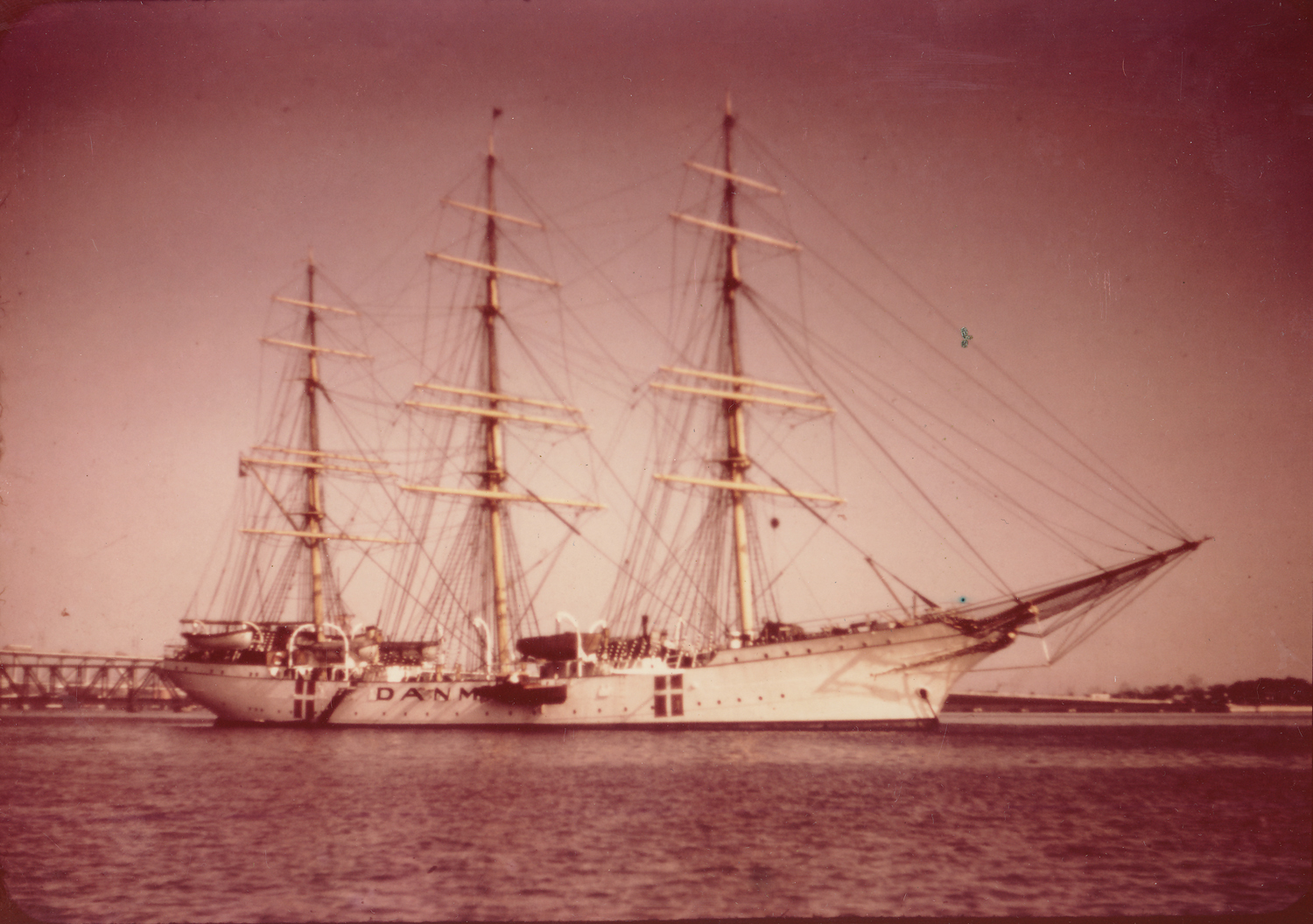 The ship was still at sea on 1 September, when war was declared following the German attack on Poland, and New York was reached on the 18th. The voyage continued, and in the beginning of October, the ship sailed from New York via Washington and Annapolis for the West Indies and the Caribbean. The ship's return to Denmark was postponed several times, which gave time for visits to Cuba and Pensacola, Florida. On 1 April 1940, the ship had arrived in Jacksonville, Florida, to take in supplies before the departure for Denmark, which had been set for 10 April. On the evening of the 8th, trainees and officers were attending a ball in the German-American Association, when the captain was called to the telephone to receive message of the German occupation of Denmark.
The ship's departure was postponed indefinitely, and Green and rest of the crew were stranded in the United States.[4] Green was among the first four cadets to sign off Danmark in favour of other ships on 30 April 1940. By the end of 1940, ninety-seven cadets had left the ship; only twenty remained. Danmark was taken over as training ship by the US Coast Guard's Academy in New London, Connecticut, on 3 January 1942, shortly after the the Japanese attack on Pearl Harbor. Fifteen cadets remained on board at that point, including Hans Martensen, Viggo Pedersen, and Andreas Petersen.[5] They signed off on 31 January 1943 to volunteer for the RCAF.[6]
Illegal Immigrant
Green shipped onto the Norwegian merchant ship SS Bestum, bound for Cuba, in Savannah on 1 May 1940. When the ship arrived in Philadelphia, Pennsylvania, on 16 May, she had orders for a trans-Atlantic trip.
The prospect of convoy duty did not appeal to some of the sailors, among them Green, and seven sailors (six Danes and a Norwegian) deserted the ship. Pooling their money, they bought a second-hand car; they planned to cross the United States and become engaged on ships sailing on the Pacific. Little did they know that it was only a matter of time before the Pacific became a theatre of war as well. Being illegal immigrants in USA, they did not get very far, and were arrested outside Buffalo, New York, in August 1940. By a stroke of fortune, the Reverend of the Danish Lutheran community in Penn Yan arranged for their release from prison and assisted them in finding jobs and homes in Yates County.
Later that year, Green was employed as an ordinary seaman on the yacht Widgeon in Rochester, which was owned by the American media mogul Frank E. Gannett. Green was employed on the Widgeon until mid-1942.[7]
Royal Norwegian Air Force
On 3 June 1942, Green was accepted for service in the RNAF in the Canadian camp Little Norway, where he trained as a navigator. Following training in Little Norway, he was trained at various training facilities in Canada (6 BGS, Mountain View; at 8 AOS, Anc. Lorette; and 1 GRS, Summerside) before arriving in Britain on 2 December 1943. On 11 January 1944, he was posted to 2 (O)AFU at RAF Millom for advanced training as Navigator "B", and, on 4 April, he proceeded to 4 OTU at RAF Alness on operational training on the Sunderland prior to joining the squadron. He was posted to 330 Squadron on 17 June 1944.[8]
The Last Mission
Green was part of 2Lt S. A. Johnsen's crew at 330 Squadron. A week after his arrival, on 24 June, the crew took off on their first patrol. In the following months, Green participated in sixteen patrol missions on Sunderland.
On 4 October, the crew was detailed for a line patrol from Utvær to Lista, close to the Norwegian coast. Sunderland III Z/330 (NJ181) was airborne from Sollum Voe at 10.45 a.m. and set course for the area. However, the aircraft was lost without a trace, as was a Liberator in the same area at about the same time. Sources suggest that the aircraft was shot down by Me 110s from Fliegerhost Herdla, possibly 13 (Z)/JG 5. Neither aircraft nor crew were ever found.[9]
Endnotes
[1] DNA: Parish register, Rigshospitalets sogn and Skovshoved sogn.
[2] DNA: 1925 Census; 1930 Census.
[3] DAHS: Green's service record (rulleblad).
[4] Ungerskov, Danmarks drenge under fremmed flag (1990).
[5] Ibid.
[6] Jensen (ed.), Med Skoleskib og Spitfire (1998).
[7] 'Danish Sailors come to County' in Penn Yan Democrat, 16.08.40.
[8] DAHS: Green's service record (rulleblad).
[9] Sperrbund, Brannpunkt westküste (2012).