Ob.ltn. Kaj Birksted
(1915 - 1996)
Profile
Kaj Birksted is the most well known, successful, and highest ranking Danish Royal Air Force pilot of the Second World War. He ended the war as Wing Commander of the Bentwaters Wing and played a key role in the forming of the Royal Danish Air Force after the war.
Kaj Birksted was born on 2 March 1915 in Copenhagen. He is the son of merchant Victor Emanuel Brockmeyer Olsen Birksted (1885-1939) and Ane Marie Kathrine Birksted (nee Larsen) (1888-1976). He was married to Sonia Elisabeth Irgens on 9 June 1945 in London.
Though born in Copenhagen, Kaj Birksted spent his childhood years in United States as his father worked here during this period. He returns to Denmark at the age of 12. Leaving school he is educated in his grand father's company, but from an early age he dreams of becoming a pilot.
In Naval Air Service
He joins the Navy in 1935. He was trained as pilot and gets his wings in 1937 (pilot's certificate 81/37). On 22 December 1937, he is appointed Flyverløjtnant-II (Flight 2nd Lieutenant) and he is promoted to Flyverløjtnant-I (Flight 1st Lieutenant) on 1 January 1940 (HfS, 1940; 1946). On 9 April 1940, when the Germans attacked Denmark, he was posted to the Naval Air Station Slipshavn (Ancker, 2001).
The Escape from Denmark
On the night between 16 and 17 April 1940, Kaj Birksted and flight lieutenant Charles Sundby escapes from Denmark to Sweden in a boat with the intention of joining the Norwegian forces still fighting against German oppression.
On 26 April 1940, Kaj Birksted and Charles Sundby get in contact with the Norwegian forces at Namsås. They are engaged as liaison officers with the British forces onboard HMS WOLVERINE. They follow the British forces, as they evacuate from Norway. In London, Birksted and Sundby apply for the Royal Air Force. They are accepted as potential candidates, but a final answer cannot be given at the time.
They sign on the M/S TASMANIA bound for Burma, leaving London on 10 June 1940 for Cape Town. Arriving in Cape Town ion 10 July 1940, they try to volunteer for the South African Air Force. Again they have to wait for the final approval. Having left Cape Town and bound for Calucutta, they receive a notice on 15 August 1940 informing them that they have been accepted for the Norwegian air forces.
They sign off in Cuba and arrive in Toronto, Canada, in October 1940. In Toronto, the Norwegian air forces are setting up the training camp "Little Norway" (Ancker, 2001).
Joining the Norwegian Air Force
On 1 November 1940, Kaj Birksted is accepted in the Norwegian Air Force holding the rank of Fenrik (Sergeant). He is promoted to Løytnant (Lieutenant) on 1 December 1940. In the following months he is training on the Fairchild Cornell PT-19 and also functioning as instructor for other pilots.
He is transferred to England on 19 March 1941 and reports to 56 Operational Training Unit (OTU) on 12 May 1941. He is flying solo on a Hurricane Mk. I (no. 7507; possibly V7507) on 15 may 1941. This course ends at 22 June 1940. He reports to 43 Squadron on 30 June 1941 flying Hurricane Mk. II until 26 July 1941.
To 331 (Norwegian) Squadron
On 28 July 1941, Kaj Birksted reports to the newly established 331 (Norwegian) Squadron on RAF Station, Catterick. He is appointed Flight Commander. The squadron is equipped with Hurricane Mk. I, but converts to Hurricane II during August. On 22 September 1941, the squadron is moved from RAF Station, Castletown to RAF Station, Skaebrae, on the Orkney Islands. The squadron converts to Spitfire Mk. II while at Skaebrae. On 28 April 1942, the squadron is moved to RAF Station, North Weald, near London. At the same time the squadron converts to Spitfire Mk. V.
From 7 April to 11 May 1942, Kaj Birksted follows an Aerial Gunnery Course at Fighter Wing, Central Gunnery School, RAF Station, Sutton Bridge. He is back at North Weald on 15 May 1942.
On 19 June 1942, Birksted is credited with his first victories: a Focke Wulff 190 shot down and another one damaged. He is promoted to Kaptajn (Captain) on 24 July 1942, and on 19 August, he participates in the operations supporting Operation Jubilee (Dieppe).
In Charge of 331 (Norwegian) Squadron
On 24 August 1942, Kaj Birksted is promoted to Major (Squadron Leader) and he takes on charge of the 331 (Norwegian) Squadron. He is Squadron Leader of 331 until 21 April 1943.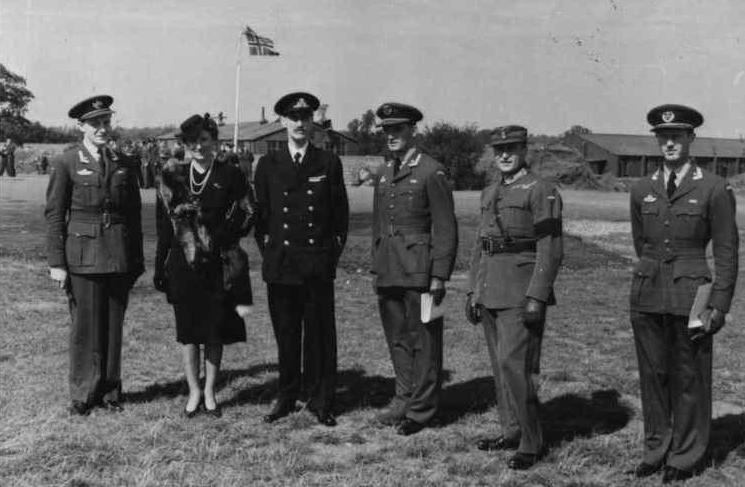 On 5 September 1942, during a visit by King Haakon and his family at North Weald, Kaj Birksted is decorated with Det norske Krigskors med Sværd (the Norwegian War Cross with Sword).
On 14 October 1942, the 331 (Norwegian) Squadron is fully converted to Spitfire Mk. IX. The following day, Air Marshall, Sir Trafford Leigh-Mallory visits North Weald. Kaj Birksted is decorated with Distinguished Flying Cross.
From 21 April to 30 June 1943, he is instructor at Squadron Leader Fighter School. On 22 July 1943, he returns to North Weald – to 132 Wing.
In Charge of 132 (Norwegian) Wing
On 1 August 1943, he is promoted Wing Commander, RAF, and soon after the equivalent Oberstløytnant, Norwegian Air Force. On 26 November 1943, he is awarded the Distinguished Service Order.
On 11 March 1944, he is attached to 11 Group Combined Control Center, Uxbridge. His function here is that of Operational Planner. He is stationed here at D-day.
On 16 March 1945, he is appointed Wing Commader Flying of the Bentwaters Wing at the RAF Station of the same name. It is an all through RAF wing flying Mustang. He is attached to this unit until the end of the war.
On 10 May 1945, Kaj Birksted returns to Denmark for a few days. He lands at B.160 Copenhagen/Kastrup in his personal Mustang (NK-KB). He returns to Bentwaters a few days later and participates in a victory fly past on 14 May 1945.
After the War
Kaj Birksted returns to Denmark after the war. Despite his war effort and experience he holds the rank of lieutenant of the reserve. He participates in the rebuilding the Danish air forces in a joint Royal Danish Air Force after the war.