AC2 Perry Carl Scheller
(1919 - 1997)
Profile
Perry C. Scheller studied at the University in Paris in early 1940 and became part of the exodus from Paris as the Germans advanced on the French capital. He returned to Denmark, where he was part of the resistance movement, before escaping to the United Kingdom where he joined the RAF.
Perry Carl "Feller" Scheller was born in Copenhagen on 26 March 1919, to Carl Alfred Scheller and Bodil Inger Scheller (née Utke-Philip).[1] The parents married in Palo Alto, California, in April 1918, but divorced in July 1922.[2]
Scheller's mother met Erling Foss in England during the summer of 1922. Foss—an engineer working for the Tunnel Portland Cement Company at the time—was the son of Danish engineer and industrialist Alex Foss, co-owner of the Danish cement company F.L. Smith & Co.[3] The couple married in October 1922 in Orsett, Essex.[4] As Foss' work for the Tunnel company came to an end, he was offered a position in Paris, and the family moved to Enghien-les-Bains in 1924. They returned to Denmark in the early 1931 as Foss went into business for himself. The family settled in Gentofte north of Copenhagen.[5]
Escape from Paris
Scheller was studying in Paris at the outbreak of war. He had received a scholarship from the French government to study languages at the University. The German invasion in April 1940 cut off communication to Denmark, but the family managed to get a letter and some money to him through a French military attaché who was deported from Denmark a few days later.[6] Scheller experienced the fall of France in June 1940 at first hand and, after his return to Denmark, he described the chaos as the Parisiens fled the city. Scheller wanted to get to Bordeaux to get a job in the Danish firm Christiani & Nielsen.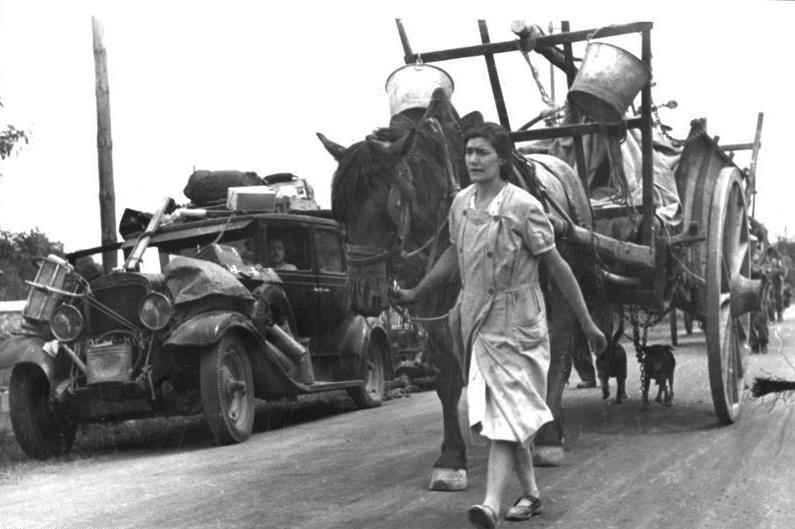 Unable to get a train out of the city, he was looking for other means of transport. He volunteered to be the chauffeur for a French lady and her son, who needed to get away from Paris. They left Paris in an old Opel on 10 June 1940 towards Orléans. The roads were blocked by the many refugees trying to get to the south, and they had to stop for the night a few miles before Chartres. Early next morning they continued, but outside Blois the car gave up, and they had to leave it in a field. The lady and her son was able to get another ride. Scheller walked to Vendôme, where he bought a bicycle from a farmer. He gave up on the idea of reaching Bordeaux, and instead he headed for Bretagne, where the parents of a Dutch friend had a Villa in Carentec; this was trip of some 300 miles. He met a fellow Canadian student from Cité Universitaire in Paris and travelled towards Carentec for 5 days. At some point, he even had to spent a night in prison as he had left Paris illegally. The was released the next morning. He spent a week at the Villa in Carentec, before the Germans reached this part of the country.
Scheller returned to Paris on 28 June. He left Paris for Brussels on 17 July 1940 in a group of thirty-eight Danes, who was stranded in the French capital. The following day, the group continued in two German busses through Belgium, the Netherlands and Germany.[7] They reached to Danish border on 10 august 1940,[8] and returned to university for the new semester.[9]
Escaping Denmark to join the RAF
Scheller had to leave Denmark in 1943 following his participation in a railway sabotage near Elsinore.[10] He escaped to Sweden and from there to the United Kingdom.[11]
He volunteered for the Royal Air Force in Edinburgh at some point during 1944 (2257200).[12] There is very little information on his service, but he seems to have served as an administrative clerk with the rank of Aircraftman 2nd Class.[13]
Scheller returned to Denmark after the liberation and married Inez Carmona in April 1950.[14]
Endnotes
[1] DNA: Parish register, Sankt Johannes Sogn.
[2] DNA: Parish register, Sankt Mariæ Sogn.
[3] Rüdiger, M. (2000). Uden tvivl : Erling Foss 1897-1982.
[4] Ancestry: England & Wales, Civil Registration Marriage Index, 1916-2005.
[5] Rüdiger, op.cit.
[6] Rüdiger, op.cit.
[7] Ung Dansker midt i det franske Lavine-Skred. Nationaltidende, 14 August 1940, pp. 7-8.
[8] 38 Paris-Danskere hjem fra Bruxelles i Dag. Nationaltidende, 10 August 1940, p. 1.
[9] DNA: 1940 Census of Denmark.
[10] Frihedsmuseets Modstandsdatabase, http://modstand.natmus.dk/Person.aspx?84389 (accessed on 3 April 2021).
[11] Rüdiger, op.cit.
[12] NA: AIR 78/140.
[13] Frihedsmuseets database over søfolk og soldater i allieret tjeneste, 1939-45, http://allieret.natmus.dk/person.aspx?84389 (accessed on 3 April 2021).
[14] DNA: Register of civil marriages, Geentofte kommunes giftefoged.