Fg Off. Børge Nielsen
(1916 - 1945)
Profile
Børge Nielsen was one of three Danes serving in 205 Grp in the Mediterranean Allied Strategic Air Force. From bases around Foggia in Italy he carried out thirty-nine operations from August to December 1944.
Three Danes operated from Italy on Wellingtons in 205 Grp during 1944. Kay Høyer was posted to 40 Sqn in April, and Ole G. Grønning to 150 Sqn in June. Børge Nielsen was the last of the trio to enter operational service, when he was posted to 104 Sqn at Foggia Main in June/July 1944.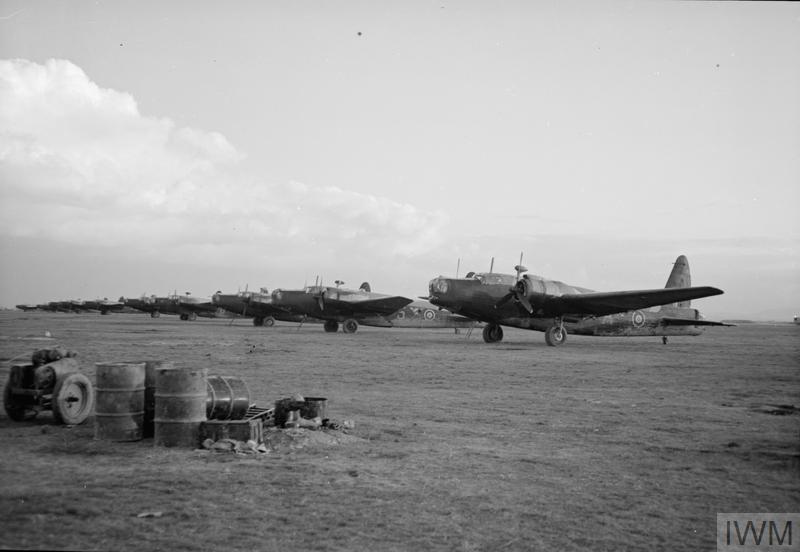 Merchant seaman before the war
Nielsen was born on 16 January 1916 in Vester-Skerninge on the island of Funen, but grew up in Copenhagen. He was the son of gartner Niels Mogens Nielsen and Marie Nielsen (née Sørensen). Some time around 1930, he was employed by the shipping company A. P. Møller, sailing as an able seaman.[1] Between 1935–36, he served as a cadet on the training ship Danmark, like several of the other Danish air force volunteers, before training as ship's officer. At the outbreak of war he was at sea, presumably on-board SS Marit Mærsk.[2] This ship was requisitioned by the British Ministry of War Transport in Piraeus in Greece in late April 1940.[3]
It is presumed, therefore, that Nielsen volunteered for the Royal Air Force (Voluntary Reserve) in the Middle East. Nielsen was trained as pilot, but it has not yet been possible to find information on his whereabouts. He was commissioned as Pilot Officer (163012) before arriving at 104 Sqn.[4] Based on the service number it is presumed that he was commissioned in late 1943.
The Last Part of the Oil Campaign
Since August 1943, the Allies carried out a bombing campaign targeting the oils fields and installations in Romania, primarily, but also in neighbouring countries. This campaign, campaign, which is most often associated with the name Ploesti, lasted until August 1944. Nielsen arrived at 104 Sqn in the very last past of the campaign.[5]
On 9-10 August 1944, he carried out his first operation. The target was Ploesti. Nielsen's Wellington X LN754/O took off at 2010 hours and set course for the target. Bombs were dropped over the target, but — due to an effective smokescreen — they were not able to see any bursts from the bombing. The only visible sign of the operation was a pink-coloured glow from the ground.
While over the target, suddenly, the aircraft was attacked by a Ju 88, and the Wellington was hit in the tail unit. As the enemy aircraft closed in on the Wellington, the rear gunner fired a long burst and the Ju 88 broke away to port. It was thought that hits were registered on the enemy aircraft. Then, the Wellington was coned by searchlights and further damaged by flak. As if this was not enough action for one night, another enemy aircraft attacked shortly afterwards. Nielsen took evasive action and the enemy aircraft disappeared. Nielsen's Wellington returned to base at 0315 hours. Eleven aircraft were lost in this operation and one crashed returning.
Nielsen returned to Ploesti in 17-18 August and, four days later, he took part in his last bombing raid on oil facilities, when the squadron bombed the Szöny Oil Refinery in Hungary.[6]
In February 1945, B. Nielsen was awarded the Distinguished Flying Cross (DFC). The actions during the first Ploesti raid were specifically mentioned in the citation, which also stated that 'In the face of danger this officer has always set an inspiring example by his cool courage and efficiency.'[7]
Thirty-Nine Operations in Total
Nielsen flew a total of thirty-nine operations from August to December 1944. The operations were carried out over France, Italy, Austria, Hungary, Yugoslavia (Slovenia, Bosnia and Herzegovina, Serbia and Montenegro), Albania, Greece and — as mentioned above — Romania.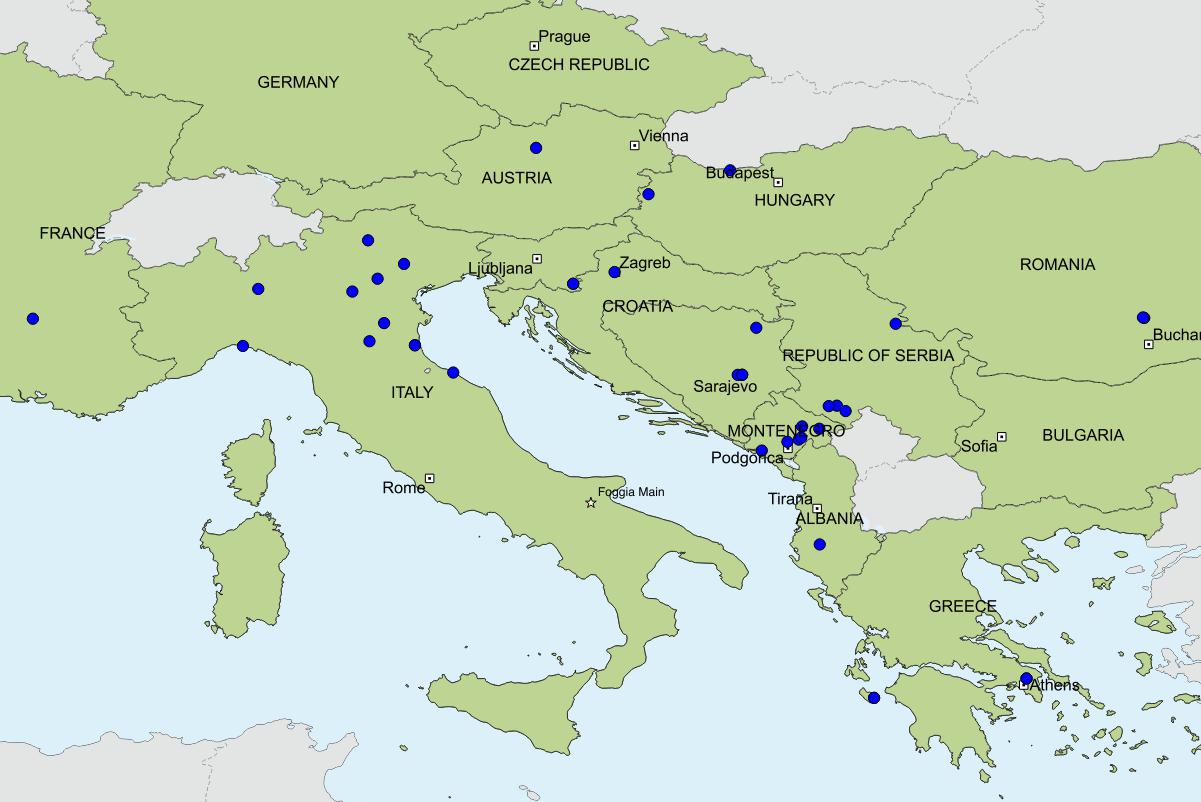 On 14-15 August 1944, he took part in an attack on the Valence/La Trasorerie Aerodrome in support of the Allied invasion of France. In September and October, a number of attacks targeted German troop concentrations or the transportation system in Northern Italy. Three bombing raids on the marshalling yards in Sarajevo in mid-October illustrate that the attempt to hinder the movement of German troops towards Northern Italy continued over the then Yugoslavia. These operations continued into December 1944. At this point, the Wellingtons of 205 Grp were also actively involved in the supply droppings to Yugoslav partisans.
Accidental Death
Nielsen left 104 Sqn in late 1944 or early 1945. Soon after he had left the squadron news arrived, that he had been awarded the DFC.[8] Nielsen was posted to Cairo and attached to the Mediterranean & Middle East Communication Squadron flying mail and passangers in the Middle East.[9]
Tragically, on 16 October 1945, he was killed in a flying accident at Capadichino, Italy. He was flying Wellington X LP803 when the port engine failed because of a problem with one of its cylinders. Nielsen attempted to carry out an emergency landing, but the aircraft stalled and dived into the ground. Apart from Nielsen, a further eight men were killed in the accident.[10]
Nielsen is buried in the Naples War Cemetery in Italy.[11]
Sources:
[1] Vester-Skerninge parish record, 1930 Census, 1940 Census.
[2] It can be established that Nielsen was on-board SS Marit Mærsk arriving in Ney York on 9 June 1939. It is presumed that he remained signed on this this.
[3] Information on Marit Mærsk (I), http://www.jmarcussen.dk/maritim/skibsliste/side.php?id=11820 (accessed 17 Oct 2017).
[4] NA: AIR 27/822.
[5] Granfield, Alun. Bombers Over Sand and Snow: 205 Group RAF in World War II (2011).
[6] NA: AIR 27/822.
[7] Ancker, De danske militære flyvestyrkers udvikling (2001), p. 213.
[8] NA: AIR 27/823.
[9] Ung dansk Flyver i Royal Air Force dræbt ved ulykke, Berlingske Tidende, 23 Dec 1945.
[10] Cummings, The Price of Peace (2004), p. 523.
[11] www.cwgc.org (accessed 17 Oct 2017)