Plt Off. Sven Erik van der Aa Kühle
(1918 - 1942)
Profile
Sven Erik van der Aa Kühle was the youngest of three brothers serving in the RAF. He was killed in action over Tobruk in February 1942. Only one of the three survived the war.
Sven Erik van der Aa Kühle was born in Copenhagen on 19 December 1918. He was the youngest of three brothers serving in the Royal Air Force during the Second World War. The elder brother Sgt K. F. Kühle was killed in September 1941, when his Blenheim crashed in Lough Neagh, 4 miles south of Randalstown in Northern Ireland.[1] The eldest brother, Flt Lt C. G. Kühle, served as instructor and pilot in Rhodesia and Kenya.[2]
Kühle was the son of tenant and solicitor Carl Gustav van der Aa Kühle and his wife Eli (nee Kielland).[3] Furthermore, he was the grandson of S. A. van der Aa Kühle, managing director of the first Carlsberg brewery (Gamle Carlsberg) following the death of the founder J. C. Jacobsen in 1887.
Kühle attended middle-school at Birkerød Statsskole north of Copenhagen from 1930. His oldest brother had emigrated to Kenya in 1931, and Kühle followed in the mid-1930s. He was employed in a coffee company.[4]
From Kenya Regiment to Royal Air Force
In July 1940, Kühle volunteered for the Kenya Regiment (L.F. 1641). He was posted to School of Infantry in Nakuru, but he was transferred to the Royal Air Force along with a number of other members of the regiment on 19 September 1940. Among them were another Danish volunteer, later Flt Lt Paul Ulrik Axel Keel.[5]
Kühle was commissioned as Pilot Officer (113841, RAFVR) on 11 June 1941, and arrived at 71 OTU at RAF Ismalia on 26 June for operational training (No. 5 Course).[6] He was posted to 274 Squadron at RAF Amriya in Egypt, taking off on his first patrol on 3 September 1941.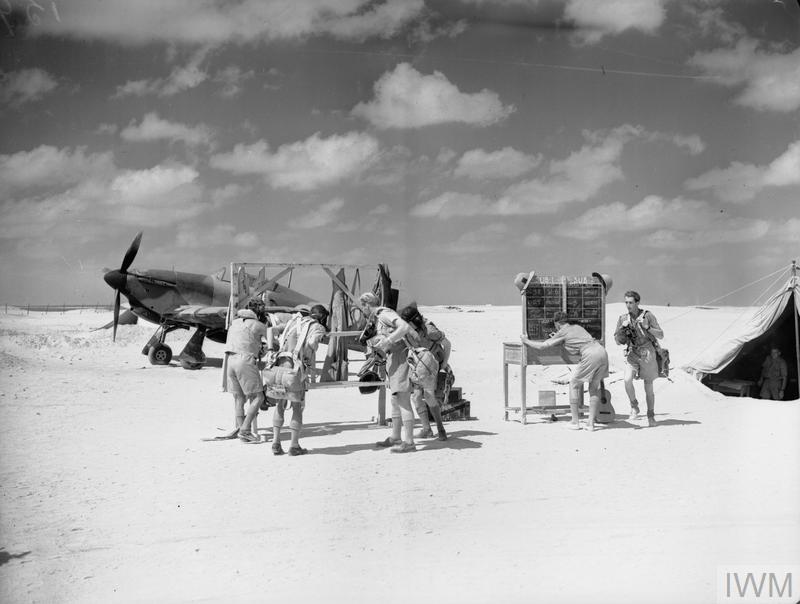 274 Squadron
Nearly a year had passed since the Italians had first invaded Egypt marking the beginning of the war in the Western Desert. The Axis forces, reinforced with the Deutsches Afrikakorps under the command of Erwin Rommel, successfully had carried out an offensive during spring pushing the British forces back to the Libyan-Egyptian frontier (Operation Sonnenblume). The garrison in Tobruk had been able to resist the Axis attack. Tobruk had been under siege for nearly five months.
Kühle flew several sorties in September and October, but he was not involved in any major operations until mid-November. On 18 November 1941, the Eighth Army launched a main attack aimed at pushing back the Axis forces through Libya and relieving the besieged garrison at Tobruk (Operation Crusader). The role of the RAF was to ensure superiority in the air and protect the advancing ground troops. Kühle was in the air from early morning. Twenty-four Hurricanes from 274 and 1 SAAF Sqns, led by Wg Cdr D. S. G. Honor, carried out protective cover patrols over the 7th Armoured Division and the S.A. Armoured Division as they pushed west in the Fort Maddalena area.[7]
In the following days he flew several operations over the battlefield. The squadron was operating from advanced landing grounds near the battle area in order to be able to provide close support to the army. Consequently, the Luftwaffe was not the only threat. On 24 November, the Axis troops—under Rommel's command—made a surprise move towards the Egyptian border; the headquarters of XXX Corps was overrun and some of the advanced landing grounds were threatened by enemy columns. Late in the afternoon, the squadron was ordered to leave the airfield (LG28), following reports on enemy tanks and armoured fighting vehicles in the vicinity. The aircraft returned the following day, but within hours the squadron was ordered to move again (to LG 103), as there was a serious threat of the airfield being attacked by enemy tanks and infantry.
An Aerial Victory
December 1941 turned out to be a busy month for Kühle. Rommel sent off two strong patrols towards Egypt on 3 December 1941, and Kühle was involved in several combats during the following days. On 9 December 1941, he scored his first and only aerial victory. Two Hurricanes of 274 Sqn were scrambled at 0900 hours. Kühle in Hurricane Mk. IIB (Z5064) and Sgt Henderson in Hurricane Mk. II (Z2835). Their mission was to carry out a patrol, but shortly after take off a German JU.88 of 2.(F)/123 was sighted at 15,000 feet flying in a Westerly direction. The Hurricanes set in that direction and Kühle managed to put a number of bursts of ammunition into it.[8] Two aircraft of 73 Sqn joined in with the result
that the port engine of the aircraft caught fire and the JU.88 went into a shallow dive and 3 of the crew bailed out, the enemy aircraft exploding and crashed leaving a large column of smoke 15 miles south of Sollum.[9]
In the Operational Record Book Kühle is credited with the victory. Kühle flew another twenty operations until mid-January 1942; at that point, the position of the two main armies had stabilised at El Aghedia.[10]
Killed in Action
On 21 January 1942, Rommel launched his second offensive and Kühle flew another eleven mission in the following weeks. Sadly, his luck was running out. On 12 February 1942, Kühle was part of a force of Hurricanes of 73 and 274 Sqns, patrolling over Tobruk. They meet a force of Ju 87s from I/St.G 3 escorted by Bf 109s from JG 27 and Italian MC 200's. The legendary German fighter ace Lt Hans-Joachim Marseille was among the escorting fighter pilots. He attacked the British fighters and claimed four victories in eight minutes.
Sgt. Henderson crash-landed south of Tobruk believing that he had been hit by flak, and Sgt. Parbury baled out under the same mis-apprehension, neither pilot having spotted their attacker. The Hurricane of PO Kuhle was seen diving inverted into the sea, and that of Fl. Lt. Smith, who had just shot down a MC 200, was seen to follow it into the sea.[11]
Kühle was killed and he is buried at the Tobruk War Cemetery.[12]
Endnotes
[1] McNeill, R. (2003). RAF coastal command losses.
[2] Knud Flemming Van Der AA. Kühle, Soraner-bladet (1947), p. 25–26.
[3] DNA: Parish record, Solbjerg Sogn.
[4] Knud Flemming Van Der AA. Kühle, Soraner-bladet (1947), p. 25–26.
[5] Record from the Kenya Regiment (Rooken-Smith).
[6] NA: AIR 29/685.
[7] NA: AIR 27/1588 and AIR 58/1.
[8] Shores and Ring (1969). Fighters over the desert : the air battles in the Western Desert June 1940 to December 1942.
[9] NA: AIR 27/1589.
[10] Shores et al. , A History of the Mediterranean Air War 1940–1945, Vol One, pp. 360–378.
[11] Shores and Ring (1969). Fighters over the desert : the air battles in the Western Desert June 1940 to December 1942.
[12] www.cwgc.org.