Jens Eyvind Jensen Scott
(1923 - 1945)
Profile

Sgt Jens J. Scott served in the US Marine Corps in the Pacific. He was victim of a kamikaze attack on USS Bunker Hill on 11 May 1945.

Jens Eyvind Jensen Scott was born on 26 February 1923. He was the son of Mary Lavlund and Harry Jesper Jensen Scott. The parents were married on 25 July 1924. Consequently, even though Scott's father was born in Pensylvania and, thus, citizen of the United States, formally, he was a Danish national.[1] In 1925, the family emigrated to the USA settling in Racine, Wisconsin.[2] The father earned a living as a painter during the 1930s.[3]

Scott graduated from Washington Park High School in February 1942.[4] On 9 February 1942, he enlisted in the U.S. Marine Corps as private. He was stationed at Aircraft Engineering Squadron 23 in San Diego, California. Later that year, he was posted to Marine Fighting Squadron 121. By October 1943, he had been promoted to Corporal and, by January 1945, to Sergeant. At this point, he was posted at Marine Fighting Squadron 451 (VMF–451) which was part of Carrier Air Group 84 (CVG–84).[5] The information available does not indicate his service on board, but he was not an airman.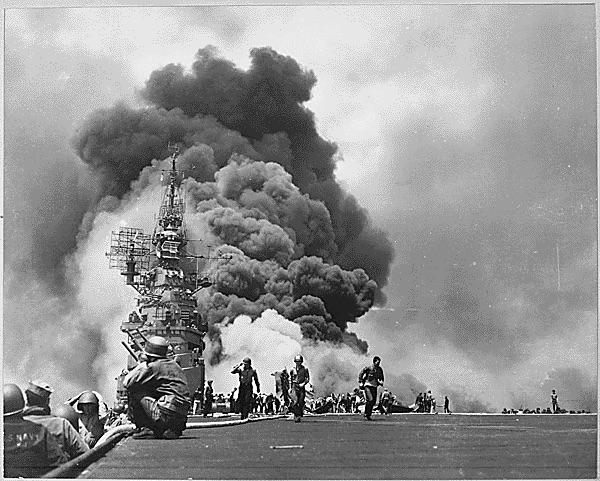 The "Blue Devils" were alerted for carrier duty in December 1944. The air echelon of the squadron joined USS Bunker Hill (CV-17) on 24 January 1945, while the ground echelon remained at Mojave. The first air operation of the squadron was carried out on 16 February 1945 over Tokyo. During the following two weeks, the carrier supported the Iwo Jima landings as well as the raids against Honshü and the Nansei Shoto. From mid-March 1945, Scott's squadron operated against the enemy home islands. On 11 May 1945, while supporting the invasion of Okinawa, USS Bunker Hill was attacked and severely damaged by two kamikaze planes (Mitsubishi A6M Zero). The attack left 389 men dead or missing and 246 wounded. US Marine Corp units lost 30 men.
Jens Jensen Scott was one of the casualties of the attack. He was buried at sea.[7]
Endnotes
[1] DNA: Parish record, Aars.
[2] Ancestry.com: New York, Passenger Lists, 1820–1957.
[3] Ancestry.com: 1930 and 1940 United States Federal Censuses.
[4] Ancestry.com: U.S., School Yearbooks, 1900–1990, 1942.
[5] Ancestry.com: U.S. Marine Corps Muster Rolls, 1798–1958.
[6] Tillman, B, US Marine Corps fighter squadrons of World War II, 2014.
[7] Ancestry.com: U.S., Marine Corps Casualty Indexes, 1940–1958.