Cpl Mary Bodil Catherine Kraul (née Schmidt)
(1908 - 1983)
Profile
Mary Kraul served in the Women's Auxiliary Air Force during the Second World War. She was born in Denmark but moved to the United Kingdom and married in 1933, thus becoming a British national by marriage.
Mary Bodil Cathrine Kraul (née Schmidt) was born on 14 March 1908 in Esbjerg. She was the daughter of Christian Mikkelsen Schmidt and Petra Hansine Schmidt (née Møller). The parents was married on 13 January 1907.[1]
Kraul left Denmark for the United Kingdom at some point. In 1933, she married merchant Sydney Eric Kraul in Lambeth, Surrey. It was his second marriage. Sydney E. Kraul was born in Newcastle in 1890 by Danish immigrants.[2] His father, Alfred Theodore Kraul, was naturalised as British Subject in April 1884.[3] He had married Else Kraul (née Clement) in 1919, but she returned to Denmark in 1926 and they had divorced in the 1927.[4]
Women's Auxiliary Air Force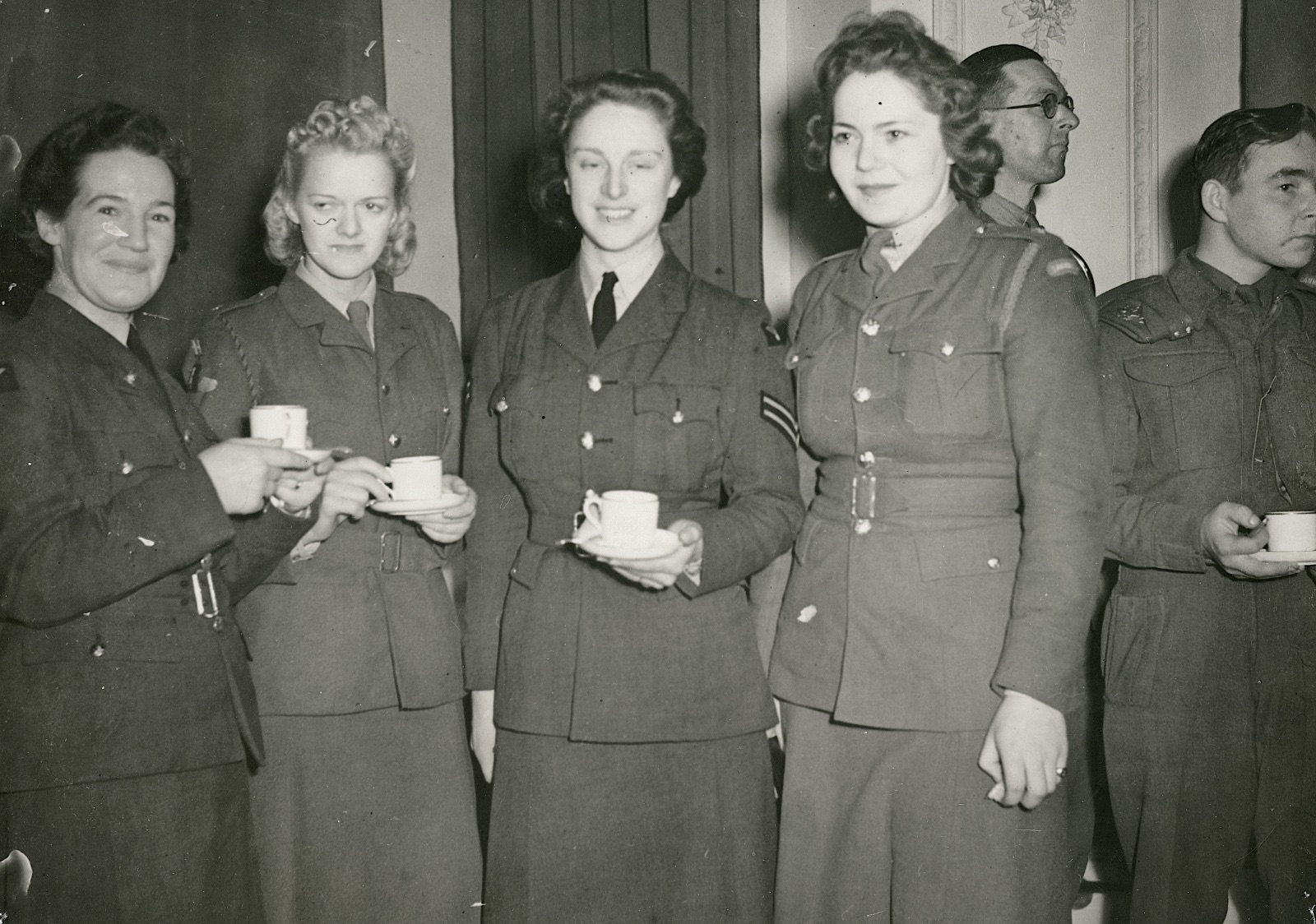 Mary Kraul volunteered for the Women's Auxiliary Air Force (2090739). The circumstances are not known, but her service number suggests that she volunteered at some point after May 1941.[5] At the end of the war, she held the rank of Corporal.[6]
Captain Sydney E. Kraul
Her husband was an Intelligence Officer. Sydney E. Kraul was commissioned as Second Lieutenant (War Substantial) in the Intelligence Corps on 2 September 1939 (98179)[7], and he was later promoted to Captain (Temporary).[8] He relinquished this commission on 6 November 1941.[9]
Kraul served as an Intelligence Officer attached to the Orchan Internment Camp in the Isle of Man.[10] This camp was established for the internment of enemy aliens in September 1939 just outside Douglas on the Isle of Man. The first 1,200 German internees arrived in the camp in June 1940. The camp closed down for a while in July 1941 for a time and the internees were being transferred to other camps. It reopened in September 1941 for the internment of Italians.[11]
Kraul knew how it was to be an internee from own experience; During the First World War, Sydney Eric Kraul had been a prisoner of war in Ruhleben Civilian Internment Camp outside Berlin.[12]
Endnotes
[1] Kirkebog, Esbjerg Sogn, Folketælling 1940, Esbjerg, Nygårdsvej 128.
[2] DNA: Parish register, Den Danske Menighed i Newcastle (the Danish congregation in Newcastle).
[3] NA: HO 334/11/4093.
[4] DNA: Database over indfødsretstildelinger 1776 - 1960.
[5] Kraul's service number is part of a block of numbers (2000000 to 2099999) allotted for WAAF enlistment in May 1941. The next block of numbers (from 2100000) was allotted in August 1942.
[6] Fra London til Esbjerg. Vestkysten Esbjerg Avis, 9 October 1945, p. 5.
[7] London Gazette, issue 34726, 3 November 1939, p. 7490, https://www.thegazette.co.uk/London/issue/34726/supplement/7490.
[8] Ancestry: UK, British Army Lists, 1882-1962, October 1941.
[9] London Gazette, issue 35337, 4 November 1941, p. 6436, https://www.thegazette.co.uk/London/issue/35337/page/6436.
[10] Hemming, H. (2014). Churchill's iceman: the true story of Geoffrey Pyke : genius, fugitive, spy, p. 223.
[11] Chappell, C. (2017). Island of Barbed Wire : the Remarkable Story of World War Two Internment on the Isle of Man.
[12] NA: KV 2/3039.