Annette Augusta Schalburg
(1918 - 2013)
Profile
Annette Augusta Schalburg was one of the women of Danish descent who volunteered for the Royal Canadian Air Force during the Second World War. She served in the RCAF Women's Division in Canada and in England.
Annette Augusta Schalburg was born on 7 January 1918 in Long Marsden, Stratford-upon-Avon, England.[1] She was the daughter of later Flying Officer Ernst Schalburg and Beatrice Schalburg (née Ridgway).[2] The couple married in 1912.[3] She was the half-sister of Flt Lt Charles Peter Ernst Schalburg (182128), who also served in the Royal Air Force during the war.
Schalburg's parents divorced in 1921[4] and, the following year, Schalburg and her mother emigrated to the United States arriving in New York on-board SS Aquitania on 28 April 1922.[5] Her mother married Professor Albert R. Prince on 29 May 1924,[6] and the family moved to Canada.[7]
Schalburg attended the Queen's University at Kingston from where she received a Bachelor of Arts in 1939.[8] In September 1939, she passed the Civil Service Commission's examination of stenographers and typists.[9]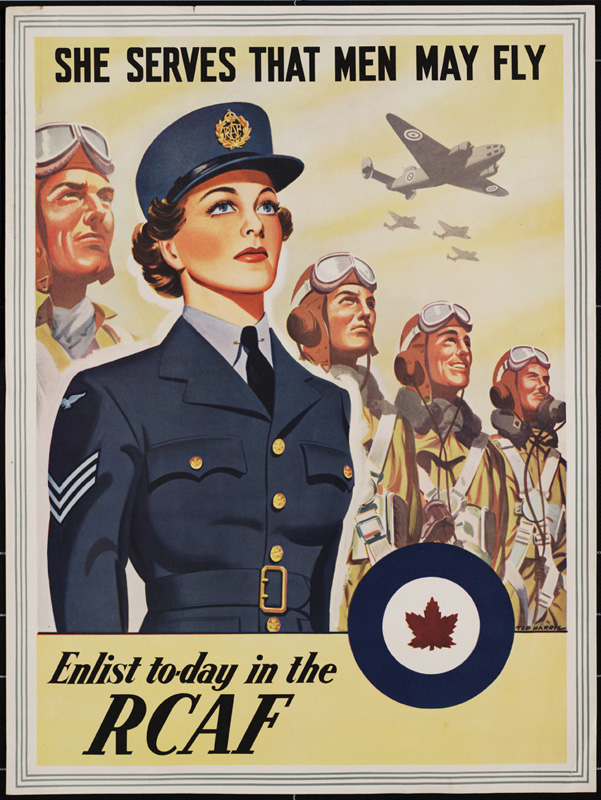 Canadian Women's Auxiliary Air Force
Schalburg volunteered for the Canadian Women's Auxiliary Air Force (CWAAF) in Ottawa on 21 October 1941.[10] Schalburg was among the very first Canadian women to serve in the armed forces.
Thousands of men turned up at the recruiting centres as Canada entered the war on 10 September 1939. Canadian women also wanted to serve, but the authorities were reluctant to enlist them in the armed forces other than in medical and nursing roles. By 1941, the RCAF was expanding rapidly, primarily because of the British Commonwealth Air Training Plan (BCTAP). To meet the increasing demand for personnel more and more RAF personnel including members of the Women's Auxiliary Air Force (WAAF) were arriving in Canada. As it was impossible to explain why British women could serve in the air force, but not Canadians, on 2 July 1941, the Canadian government created the Canadian Women's Auxiliary Air Force. Approximately 2,000 women responded to the initial call to join the CWAAF; 150 were selected. The first contingent of recruits arrived for training at 6 Manning Depot—the former Havergal girls school—in October 1941. On 3 February 1942, the CWAAF became an integral part of the RCAF, as RCAF (Women's Division).[11]
Overseas Service
Schalburg—then Section Officer—arrived RCAF Digby in Lincolnshire in June 1944 as the new Women's Division Officer. Digby was under RCAF control from September 1942 to May 1945, and during the spring of 1944 the base for several squadrons preparing for D-day.[12] The material suggest that she moved to 62 Base, RCAF, at Linton-on-Ouse in Yorkshire, in September 1944. This station was the home of 408 and 426 Sqns, RCAF.[13] At the end of the war, Schalburg held the rank of Flight Officer in the Administrative Branch (V30067).[14]
Schalburg received a Master of Social Works from the University of Toronto in 1948.[15]
Endnotes
[1] Ancestry: England & Wales, Birth Index: 1916-2005.
[2] Ancestry: Canadian Passenger Lists, 1865-1935.
[3] Ancestry: England & Wales, FreeBMD Marriage Index: 1837-1915.
[4] NA: J 77/1776/5397.
[5] Ancestry: New York Passenger Lists, 1820-1957.
[6] Ancestry: U.S., Presbyterian Church Records, 1701-1970.
[7] Ancestry: Canadian Passenger Lists, 1865-1935.
[8] Calendar of the Faculty of Arts, 1940-41, Queens University, Kingston, Canada.
[9] Succesful Candidates in Civil Service Tests, The Ottawa Citizen, 1 Mar 1940, p. 6.
[10] Get New Permanent Waves to Start Career in Air Force, The Ottawa Journal, 22 Oct 1941, p. 21.
[11] March, William. RCAF (Women's Division) - The Canadian Encyclopaedia, https://www.thecanadianencyclopedia.ca/en/article/rcaf-womens-division (retrieved on 18 April 2020).
[12] Wikipedia: RAF Digby, https://en.wikipedia.org/wiki/RAF_Digby (retrieved on 18 April 2020).
[13] Gossage, op.cit.
[14] The Canada Gazette, 1867-1946 (Dominion of Canada), volume 79, number 38, 22 September 1945, p. 60.
[15] Schalburg, School leaving at fifteen, University of Toronto, 1948.