Henry Haakon Hansen
(1915 - 2002)
Profile
War sailor and Lancaster pilot. Henry Haakon Hansen was at sea at the outbreak of war in Europa in September 1939. He continued at sea for the first two years of the war, but volunteered for the Royal New Zealand Air Force in October 1942. He was trained as pilot.
Henry Haakon Hansen was born on 13 September 1915 in Copenhagen. He was the son of tramcar driver Hans Peter Hansen and Valborg Emilie Vilhelmine Hansen (née Nilsson).[1]
Hansen went to sea at the age of fifteen. He signed on to the MS Tongking (1914) of the Danish East Asia Company,[2] and four years later he signed on the SS Frederik VIII as a deck boy.[3]
War Sailor
After the outbreak of war, Hansen continued at sea in the Merchant Navy. He was engaged on the SS Rosalie Moller from 4 October 1940 to 9 May 1941.[4] This suggests that Hansen joined the vessel on anchorage at Calcutta (Sandheads) on its way via Suez to Alexandria. Following another voyage on the same route, the vessel sailed for South Africa. Hansen signed off in Capetown, and signed on on the tanker SS Nicolaou Maria in May 1941 in stead.[5]In October 1941, five months after Hansen had disembarked, Rosalie Moller was attacked by a Heinkel He 111 from II./KG26 in Anchorage H in the gulf of Suez.[6]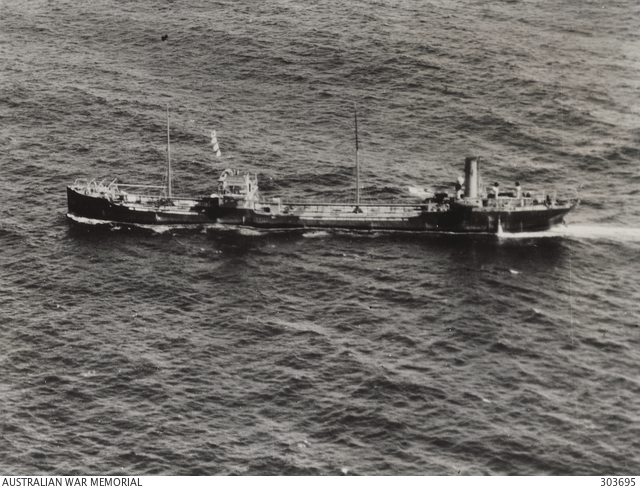 Nicolaou Maria sailed for for Calcutta and then continued to Adelaide via Singapore and Indonesia. The vessel made another voyage to India returning to Auckland in December 1941.[7] Hansen signed off on 20 January 1942. He attended a Second Mate's course at captain W. I. Keane's nautical school in Auckland from 22 January til 31 May 1942, but did not return to the sea again.
Hansen qualified to the 1939-45 Star, the Africa Star and the Pacific Star as a merchant seaman.[8]
Royal New Zealand Air Force
Hansen volunteered for the Royal New Zealand Air Force and enlisted on 24 October 1943. Following recruitment and initial training at New Plymouth and 1 Initial Training Wing at Rotorua, he was posted to 2 Elementary Flying Training School at Ashburton. He attended Course 41C from 31 March to 24 July 1943.
He continued flying training at 1 Service Flying Training School at Wigram until 20 November 1943. The evaluation at the end of the course stated that he was
Exceptionally hardworking pupil, handicapped through language difficulties.Keith Logan Caldwell, OC, RNZAF Station Wigram Aerodrome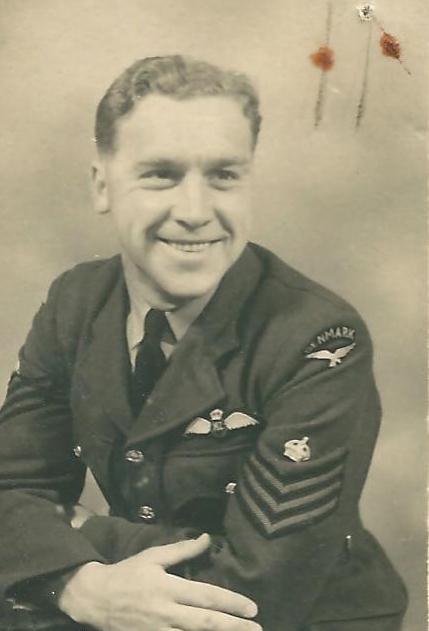 He was promoted to Sergeant and posted to 1 Port Depot pending embarkation for the United Kingdom.
By 1944, the training of new pilots had increased significantly and the the loss rate in Bomber Command had decreased. Consequently, the need for replacement pilots in the squadrons were not as high as earlier in the war. Hansen disembarked in the United Kingdom and was taken on strength at the 12 Personnel Despatch and Reception Centre, Padgate, London on 26 March 1944. He remained here for nearly six months before being posted to 15 (Pilot) Advanced Flying Unit on 5 September 1944. He was posted to 11 Operational Training Unit at Bassingbourn for final training and received a commission as Pilot Officer on 29 March 1945.[9]
Lancaster pilot
On 12 April 1945, he was taken on strength at 73 Base Unit and posted to 1653 Conversion Unit at North Luffeham to convert to the Lancaster bomber. He remained at this unit until after the end of hostilities in Europe on 8 May 1945. The evaluation at North Luffeham was positive, but also mentions that Hansen had some difficulties due to the language.
This Captain is Danish and is very steady and reliable. He obtained his commission while on this Unit, and shaped well as an Officer. His crew are hardworking and produced good, though limited, bombing results.C.G.I's remarks on whole crew
Hansen was posted to 15 Sqn at Mildenhall on 19 June 1945. A single sortie is listed in the operational record book for Hansen's crew even if it was a non-operational flight. In mid-July the squadron flew 'tours' over the Bombed cities of Germany in order for ground crews to see the results of the bombing carried out by Bomber Command.[10]> The term used for these sorties in the squadron records is Operation Baedeker. The name can be seen as a reference to the German bombing campaign on a number of English cities—Canterbury, Exeter, Bath, Norwich and York—from April 1942 (the Baedeker Blitz), which again were so named after the Baedeker travel guide.[11] On 15 July 1945, two Lancasters, including Hansen flying in Lancaster NX571 L, were detailed and successfully completed a tour of bombed German cities. Each of the aircraft carried five passengers.
On 18 July 1945, Hansen was among thirty pilots and flight engineers (all New Zealanders) posted to 75 (RNZAF) Sqn at Mepal. The squadron moved to RAF Station Spilsby three days later. The squadron did not see any operational flying during Hansens stay here. Hansen was posted to 2 Personnel Despatch and Reception Centre in Brighton on 8 October 1945 pending repatriation.
Hansen was transferred to the reserve on 12 February 1946, and finally terminated his commission on 28 August 1956. During the war he qualified to France and Germany Star, Defence Medal, New Zealand War Service Medal during his time in the RNZAF.[12]
After the war, he was awarded King Christian X's Medal for Participation in the War 1940-45.[13]
Endnotes
[1] DNA: Parish registration, Kapernaums Sogn.
[2] Ancestry: Seattle Passenger and Crew Lists.
[3] Ancestry: New York, Passenger Lists, 1820-1957.
[4] NZDF: Hansen, Henry Haakon (422870).
[5] NA: BT 389/25/88.
[6] http://www.naval-history.net/xDKWW2-4110-37OCT01.htm, https://www.wlb-stuttgart.de/seekrieg/41-10.htm. (accesses on 16 April 2019)
[7] NA: BT 389/40/120.
[8] NA: BT 395/1/40077.
[9] NZDF: Hansen, Henry Haakon (422870).
[10] NA: AIR 27/205.
[11] Wikipedia, Baedeker Blitz (accesses on 27 April 2019).
[12] NZDF: Hansen, Henry Haakon (422870).
[13] DNA: Udenrigsministeriet, Gruppeordnede sager 1946-72, 48.Y.90.