FS Eric Haakon Neilson
(1919 - 1943)
Profile
Eric Haakon Neilson was born in Canada by Danish parents. During the Second World War he served as air gunner in the Royal Canadian Air Force. He was killed in action in June 1943, when his Whitley was downed by a Fw 190 over the Celtic Sea.
Eric Haakon Neilson was born on 14 September 1919 in Longeuil, Quebec, Canada. He was the son of Valdemar and Hansine Barbara Neilson.[1] His father emigrated to Canada in 1912, and his mother and siblings rejoined the father there the following year.[2] The father served in the Canadian Expeditionary Force (CEF) during the First World War.[3] According to the 1921 Census of Canada, the family father was naturalised in Canada as early as in 1915.[4] On the other hand, after the war, Neilson was awarded the King Christian X Memorial Medal for which Danish nationals only were eligible.[5] This suggests that his parents were Danish citizens at the time of his birth, and that he was, by Danish authorities, still considered a Danish at the time of enlistment.
Neilson was educated at Bancroft Elementary School in Montreal from 1927 to 1930 and at Woodland Elementary School in Verdun, Quebec, from 1930 to 1934. From 1934 to 1937 he attended Verdun High. He was employed by his father as a painter and decorator in Montreal, Quebec from 1937 to 1939.[6]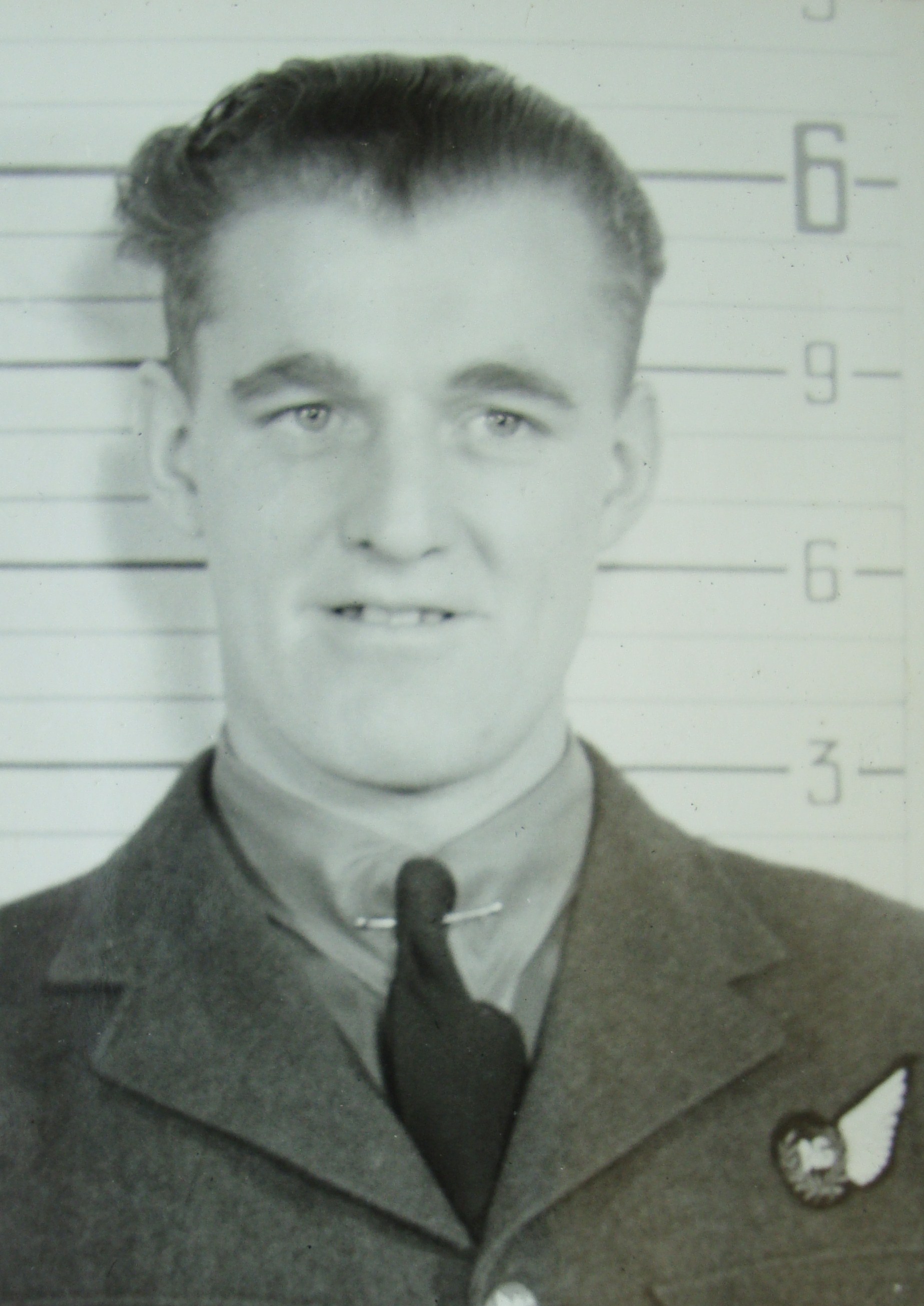 Royal Canadian Air Force
Neilson enlisted on 20 September 1939 in Montreal. For the first about two years of his service, he remained on ground. He was posted to No. 1 Manning Depot, Toronto, ON, for General Duties with the rank of AC2 (R.10786) on 2 October 1939. On 25 October 1939 he was posted to RCAF Station Trenton and, on 13 February 1940, he was posted to No. 1 Wireless School, Montreal. He was promoted to AC1 on 20 March 1940 and to LAC on 30 June 1940.
On 21 September 1940 he was posted to No. 3 Training Command Headquarters and further to RCAF Station Rockcliffe. He attended a Security Guards Course at No. 3 Manning Depot which included drill training, rifle and Lewis gun practice, field engineering and training in defense against gas.
Ending this course on 19 October 1940 he was promoted to Corporal[7] and re-classified as Security Police Guard. In the recommendation for the appointment it was stated, that "This airman is capable of handling a squad of airmen and is qualified for promotion"[8] and further that "This airman has good word of command and with more practice would make a good Drill Instructor."[9]
He was posted to No. 21 (Magazine) Detachment, Mount Raleigh/Kamloops, BC, on 22 October 1940. He was struck off strength of No. 15 Explosives Depot, Mount Raleigh/ Kamloops, BC, on 3 June 1941, and posted to RCAF Detachment, Prince Rupert, BC. On 1 August 1941 he was re-classified as Security Guard.
Remustered to aircrew
From enlistment, comments in Neilson's service records indicate that he was not particularly interested in guard duties, but very eager to become air crew.
On 13 June 1942, he is evaluated for re-classification to aircrew at No. 1 Recruitment Centre, Vancouver. He was recommended for service as air gunner, but not for a commission.[10] He returned to Prince Rupert. Six days later, on 19 July 1942, he reported to No. 8 Bombing & Gunnery School, Lethbridge, Alberta, to be trained for air gunner. At the end of this course, Course No. 36B, his results were not satisfactory, and he was transferred to Course 37B for further training. On 23 October 1943 he was promoted to Sergeant and re-classified to air gunner. He had finally passed the course. He was considered a "confident gunner, reliable," but not at all suitable for further training as a gunnery instructor.[11]
Operational Service
At the end of training in Canada, Neilson was sent to England for overseas service. He disembarked in England on 23 November 1942 and was taken on strength at No. 3 Personnel Reception Centre, Bournemouth, on 1 December 1942.
He was transferred to No. 10 Operational Training Unit, RAF Coastal Command, RAF St. Eval, for operational training. He was enrolled in Course 73 at this unit and qualified as air gunner on 8 May 1943. Two weeks before, on 24 April 1943, he was appointed flight sergeant.[12]
Last sortie
On 3 June 1943, Neilson was the air gunner of Whitley V (BD414/J) taking off at 1045 hours from RAF St. Eval in Cornwall on an Atlantic Patrol. Carrying 6 x 250 lb depth charges the course was set for the Bay of Biscay in search of German U-boats. The aircraft failed to return and no communication was received from the aircraft. An Air Sea Rescue procedure was put into operation, but without any results.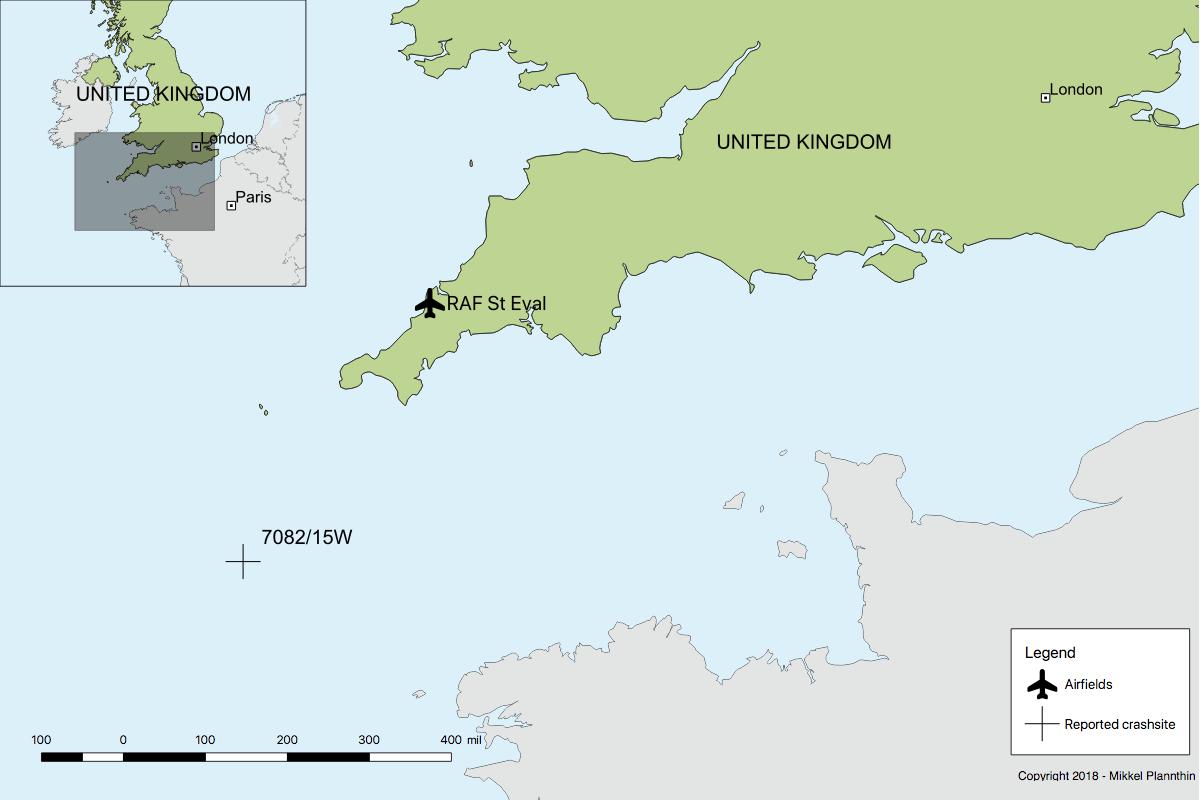 In a letter to Neilson's mother, Wg Cdr Stevens tells that her son
"…went out on an operational sweep on the 3rd June 1943, and his aircraft failed to return to base. No communication whatever was received from the aircraft and I can only assume that it met with some unfortunate calamity which prevented it sending out any distress signal, or giving us any indication of its position. In spite of an intensive search, I very much regret to say we have been unable to discover any trace of the aircraft or crew and we must presume all are lost."[13]
The crew of six were captain AUS.415212 FS Douglas Frederick Bavin (Pupil Pilot), RAAF; 2nd pilot J.22032 Plt Off. Harold Douglas Pepper (Pupil Pilot), RCAF, navigator J.14637 Plt Off. David Taylor Dorward (Pupil Navigator), RCAF, wireless operationer/air gunner 1385126 Sgt Colin Arthur Richardson (Pupil WT/AG), RAFVR, bomb aimer 136821 Plt Off. Cecil Aspland Nicholls (Pupil B/A), RAFVR, and air gunner R.10786 Sgt Eric Haakon Neilson (pupil air gunner), RCAF.
Neilson and the rest of the crew were the victims of Unteroffizier Hermann Mannetstetter of 8. Staffel/Jagdgeschwader 2 "Richthofen". Three Fw 190 from this unit took off at 1934 hours from Fontenay-le-Comte on a free chase against anti-submarine aircraft over the Bay of Biscay. About 100 km northwest of Ushant, they engaged a Whitley which was shot down at about 500 meters height. The aircraft exploded in mid-air and only debris was seen falling into the sea. It was the first confirmed victory for Mannetstetter.[14]
The crew is commemorated on the Runnymede Memorial. Neilson was eligible for Canadian Volunteer Service Medal and Clasp, the 1939-1934 Start, Atlantic Star.[15]
Endnotes
[1] LAC: R112/30695 Neilson, Eric Haakon (10786).
[2] Ancestry.co.uk: Canadian Passenger Lists, 1865-1935.
[3] LAC: RG 150, 1992-93/166, Box 7259-14
[4] Ancestry.co.uk: 1921 Census of Canada.
[5] DNA: Udenrigsministeriet, Gruppeordnede sager 1946-72, 48.Y.90 Canada, Pakke 1.
[6] LAC: R112/30695 Neilson, Eric Haakon (10786).
[7] Ibid.
[8] Ibid.
[9] Ibid.
[10] Ibid.
[11] Ibid.
[12] Ibid.
[13] Ibid.
[14] Einzelmeldung Nr. 7 of 3 June 1943 via Dr. Jochen Prien.
[15] LAC: R112/30695 Neilson, Eric Haakon (10786).