FS Paul Andersen
(1923 - 1944)
Profile
Paul Andersen enlisted in the RCAF in late 1942 and served as an air gunner in 44 (Rhodesia) Squadron in 1944. Andersen and his crew was killed in action returning from a minelaying operation over Danish waters in 15/16 July 1944.
Paul Andersen was born on 21 May 1923 in Los Angeles, United States. He was the son of Octavius Andersen and Ingeborg Johanna Andersen (née Knudsen).[1] His parents had both left Denmark in the early 1920s and married in Los Angeles in 1922.[2] They later settled in Winnipeg. The father was naturalised as British Subject in Canada in 1934.[3] Andersen was naturalised at the same time, but as a minor he still held dual citizenship at the time of his enlistment. He attended the Riverview School from 1930 to 1939, and the Kelvin High School from 1940 to 1942. From leaving school and until enlistment, he worked as a farmer.[4]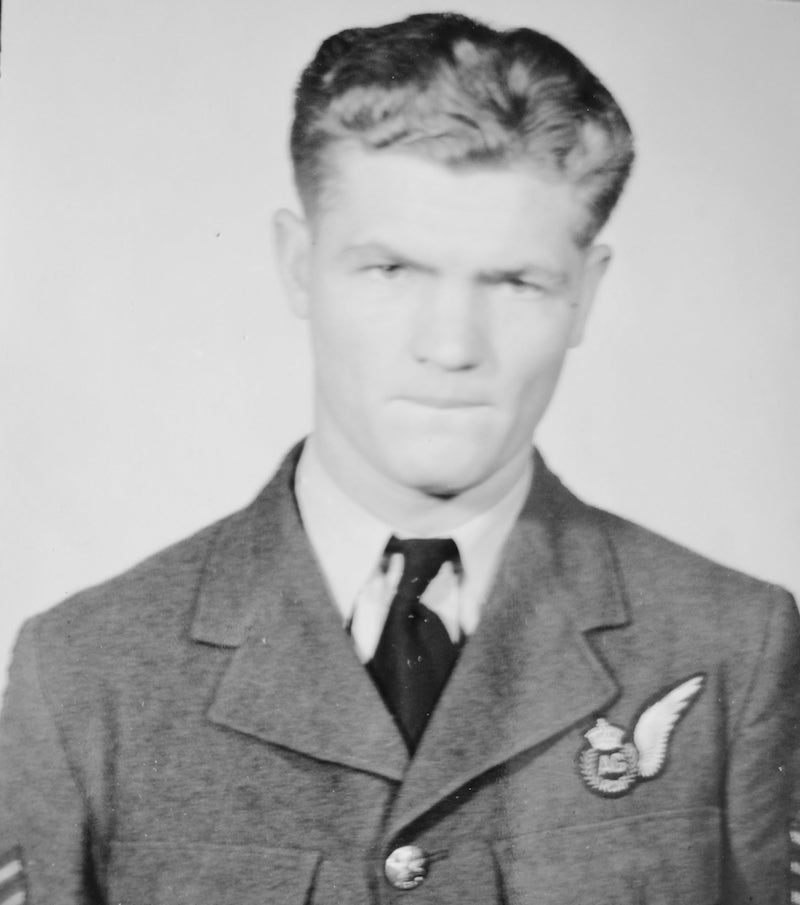 Royal Canadian Air Force
Andersen enlisted in Royal Canadian Air Force in his home town of Winnipeg on 26 November 1942. He was posted to 10 STFS on 23 April 1943, and, on 30 May, he was posted to Pre-Aircrew Education Unit, University of Toronto. After this followed training as air gunner at 1 Air Gunner Ground Training School (AGGTS), Quebec City and 9 Bombing and Gunnery School (BGS), Mont Joli, Quebec, before he was posted overseas in October 1943. In Britain, he received further training at 16 OTU, 1654 HCU, and 1485 (Bomber) Gunnery Flight. On 22 April 1944, he was posted to 44 (Rhodesia) Squadron at RAF Station Dunholme Lodge.[5]
Into Operations
Andersen entered operations at a time when Bomber Command was directed from the continued attack on Germany to the preparation of the coming invasion in Northern France. Railways, troop camps and stores in France and Belgium were attack and, as the invasion came closer, also gun batteries in the French coast. During the same period, Bomber Command continued operations over Germany.
On 1/2 May 1944, Andersen took off on his first operation. Lancaster B II ND578/Y was one of 131 heavies to bomb an aircraft assembly factory at Saint-Martin-du-Touch (Ateliers Industriels de l'Aéronautique) and an explosives factory in Toulouse (Poudrerie Nationale). Ten days later, on 11/12 May, the crew participated in the raid against Bourg-Leopold, a large military camp in Belgium. Then followed attacks on Amiens (on 19/20 May), Duisburg (on 21/22 May), Brunswick (22/23 May) and Stuttgart (25/26 May).
Towards the end of May 1944, Andersen took part in his first attacks on coastal batteries in Normandy; the batteries at Morsalines (on 27/28 May) and Maisy (on 31 May/1 June). On 2–3 and 3–4 June, Andersen operated against coastal batteries near Calais and Boulogne. The last two attacks were carried out to make the Germans believe that these areas might be the locations of the expected invasion.
Operation Overlord
Andersen was not in the air on D-Day, on a buys schedule followed in the following days.
On 6/7 June, Lancaster III LM592/Q was one of sixteen aircraft from 44 Squadron setting course for Caen. Caen was one of several targets, when a force of more than 1,000 aircraft hit communication lines (railways and roads) behind the battle area in Normandy in support of the ground battle. The aircraft's H2S was unserviceable, but the target was identified by the target indicators. The crew reported that the bombing was well concentrated, and the target covered by smoke. Below cloud and smoke, Caen had suffered heavy damage. The attack by Bomber Command followed an attack by USAAF the previous day. The town centre was badly bombed and most of the roads through the city blocked.
The following nights, Andersen participated in raids on a railway bridge at Pontaubault (on 8/9 June), a railway junction at Étampes (on 9/10 June), on communication lines at Caen (on 13/14 June). and a raid on troop and vehicle positions near Aunay-sur-Odon (14/15 June).[6] Aunay-sur-Odon was totally destroyed in the attack.[7] On 17 June 1944, Andersen was promoted to Flight Sergeant.[8]
Shortly after D-Day, on 13 June, the Germans began what would later be called the Second Blitz as they launched the first V-1 flying bombs against London. The launching sites became a priority target for Bomber Command. Andersen participated in two of these 'Noball' operation, as the attacks were codenamed. On 27/28 June, Andersen took part in the attack on a site at Mimoyecques (V-3), near Boulogne. This site had been attacked several times by both RAF and USAAF since late 1943. Andersen carried out his second and last operation on 7 July against the storage site at St Leu d'Esserent, north of Paris.[9]
Last Operation
On 15/16 July, Andersen took off on his last operation. Lancaster III PB206/KM-Q took off at 22.32 hrs. from Dunholme Lodge, for gardening operations over Danish waters. According to the plan, the aircraft made landfall near Agger on the western coast of Jutland, crossed the eastern coast north of Grenaa to reach be gardening area north of Sjællands Odde. The aircraft was lost without a trace, and it is not clear, if this was the actual flight path.[10] It does, however, correspond with Lt Dräger from 3./NJG 3, who claimed a four-engined aircraft 20 miles off the Jutland coast at Hvide Sande at 02.10 hrs. It is thus presumed, that the aircraft was the victim of Lt Dräger.[11]
Paul Andersen and the rest of the crew was lost. It was Paul Andersen's nineteenth operation in Bomber Command.
Endnotes
[1] Ancestry.co.uk: California Birth Index, 1905-1995.
[2] Ancestry.co.uk: California, County Birth, Marriage, and Death Records, 1849-1980.
[3] The Canada Gazette
[4] LAC: RG 24/24739, Paul Andersen.
[5] NA: AIR 27/451.
[6] ibid.
[7] Overy, The bombing War Europe 1939–1945 (2014), p. 578.
[8] LAC: RG 24/24739, Paul Andersen.
[9] NA: AIR 27/451.
[10] ibid.
[11] Tony Wood's Combat Claims & Casualties Lists.