Flt Lt Ole Bechgaard
(1912 - 1943)
Profile
Ole Bechgaard was born in Sweden in a Danish family. He emigrated to British East Africa in the late 1920s, and later studied at the University of Edinburgh. He volunteered for the Royal Air Force, but was killed in October 1943.
Ole Bechgaard was born on 21 December 1912 in Bonderup parish in Sweden. He is the son of civil engineer Poul Bechgaard and Elisabeth Johanne Bechgaard (née Harmsen).[1] Bechgaard's father was adopted by the Danish composer Julius Bechgaard, and he changed his name to Bechgaard in 1907.[2]
An international background
Bechgaard had an international background, and it has been difficult to determine if he was indeed a Danish national. Some sources give his nationality as Danish, others Swedish, and yet others as British.
His parents were born in Denmark. His mother had emigrated to United States with her family in 1906[3] and his father had arrived there the following year[4]; they married in Forrest, Mississippi in 1909.[5] Bechgaard's older brother John was born in the United States on 4 July 1911. Later that year, the family returned to Denmark for a short while, before settling in Sweden. Bechgaard's father was an engineer and board member of Dalby Stenkross AB (a stone-crusher company).[6] Thus, Bechgaard and his brother, Kai, were born in Sweden.[7] Poul Bechgaard—and thereby the whole family—was naturalised in Sweden on 28 June 1917. The parents divorced in 1918 and the mother returned to Denmark.[8] Poul Bechgaard remarried in 1927.
In February 1927, Poul Bechgaard and his two youngest sons emigrated to British East Africa (Kenya).[9] where he owned a plantation outside Nairobi.[10] Bechgaard left Africa for Britain in October 1932 to study at the University of Edinburgh.[11] Poul Bechgaard returned to Denmark in 1935. He reacquired his status as a Danish subject in 1937.[12]
Royal Air Force
Bechgaard lived at Teigncombe Farm near Okehampton, Devon, before the war.[13] He volunteered for the Royal Air Force in late 1940 or early 1941. The exact date is not known.
Bechgaard was posted from 51 OTU to 1453 (Turbinlite) Flight at RAF Wittering with effect from 1 January 1942, but he was sick at the time and did not report to the flight before the end of the month. Bechgaard and his observer, Plt Off. W. T. Cunningham arrived at the flight on 30 January 1942.[14] This flight was formed in July 1941 for operating Douglas DB-7's (Havoc I) converted to carry the Helmore Turbulite searchlight as well as Airborne Interception Mk. IV (AI Mark IV). Operating in conjunction with Hawker Hurricane nightfighters the Havoc was to track down enemy night fighters with the radar and illuminating them in order for the Hurricanes to attack.[15]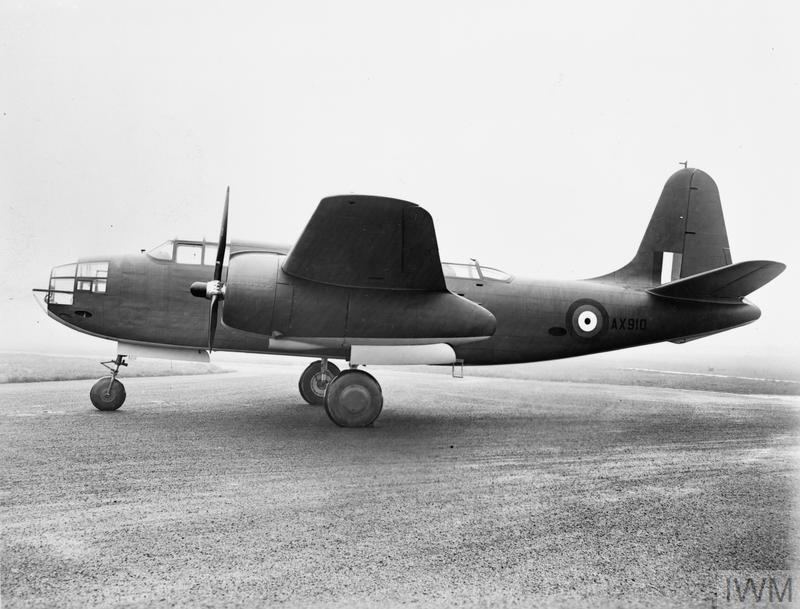 The crew carried out the first sortie recorded in the flight's operational record book on 28 February 1942 at 1850-1935 hours, when they practiced dusk landings in of the flight's Havocs (BB899). There are no further sorties recorded before the month of April. Bechgaard and Cunningham carried out Ground Control Interception (G.C.I.) co-operation practice and a special night co-operation exercise with aircraft of 151 Squadron on the night of 2/3 April 1942, and another G.C.I. co-operation practise on the 7th.
The following day, Bechgaard reported sick and was removed to Stamford Infirmary. Bechgaard was discharged from Royal Infirmary, Leicester, on 6 June, but was admitted to RAF Officers' Hospital, Torquay, on the 12th. He stayed here until discharge on 10 July.
Bechgaard was posted to HQ 14 Group for supernumerary for flying duties on 26 July 1942. Cunningham continued flying at the squadron.[16]
Night Fighter Pilot
In January 1943, he was posted to 604 (County of Middlesex) Squadron. The squadron's Beaufighters—equipped with Airborne Interception (AI) radar— operated in a night-fighter role flying defensive operations over the United Kingdom. From early 1943, the squadron also flew offensive night intruder operations over the Continent.
Bechgaard flew many sorties during the following months, mainly training flights practicing G.C.I. On 3 February 1943, for instance, the operational record book states:
P/O Bechgaard, whilst practicing, Dusk landings, got off the runway and damaged his undercarriage.[17]
In April 1943, 604 squadron moved from RAF Ford to RAF Scorton. At the same time the unit changed their Beaufighter I Fs for VI Fs equipped with the Airborne Interception radar, Mark VIII (AI Mark VIII).
Death
Bechgaard was killed in a training accident on 7 October 1943. Taking off from Catterick on 1450 on an air test the aircraft, Bristol Beaufighter NG-R (V8557), stalled and spun to the ground. The crew was killed. Ole Bechgaard then hold the rank of Flight Lieutenant.
It is with regret that we report that F/O O. Bechgaard with F/O E. F. Jeffries and Lt. K. R. Hipkin (Searchlight liaison) as passenger crashed at 14.50 hrs this afternoon just South of Catterick aerodrome. All killed instantly on impact from spin from about 2,000 ft. Aircraft NG-R (V8557) explodes and burns out. Few saw this accident which was first reported from the air but it would appear that F/O Bechgaard was making a tight turn and got into a stall. F/O Bechgaard was a naturalised British from Sweden and has been flying with F/O Jeffries in the Squadron since January of this year. Lt. Hipkin, lent by the 53 Searchlight Regiment for assistance in co-operation has been flying for about a month. Both F/O Jeffries & Lt. Hipkin are married.[18]
Bechgaard is buried at Catterick Cemetery in the United Kingdom. The personal inscription is in Danish and states: Hvil i fred min elskede søn Mollan (Rest in peace my beloved son Mollan).[19]
Endnotes
[1] SNA: Parish register, Bonderups kyrkoarkiv, Födelse- och dopböcker, SE/LLA/13035/C I/4 (1895-1928), bildid: 00129143_00060, sida 56.
[2] DNA: Parish register, København Vor Frue.
[3] Ancestry: Alabama, Passenger Lists, 1904-1962.
[4] Ancestry: New York, Passenger and Crew Lists (including Castle Garden and Ellis Island), 1820-1957.
[5] Ancestry: Mississippi, Compiled Marriage Index, 1776-1935.
[6] SNA: Dalby Stenkross Aktiebolag 1901-35.
[7] DNA/DDD: Database over indfødsretstildelinger 1776-1960.
[8] SNA: SE/LLA/13035/A II, Bonderups kyrkoarkiv, Församlingsböcker (inbunden serie), 00129132_00242.
[9] SNA: Bonderups kyrkoarkiv, Församlingsböcker (inbunden serie), SE/LLA/13035/A II a/3 (1927-1935), bildid: 00129133_00287, sida 289.
[10] Brunnström, P. Ägare och kapital : klass och genus hos kapitalägare i Sverige 1918-1939 (2014).
[11] Ancestry: UK, Incoming Passenger Lists, 1878-1960.
[12] DNA/DDD: Database over indfødsretstildelinger 1776-1960.
[13] Ancestry: 1939 England and Wales Register.
[14] NA: AIR 27/2002.
[15] No. 1453 Flight RAF, Wikipedia (acessed on 1 October 2020).
[16] NA: AIR 27/2002.
[17] NA: AIR 27/2084.
[18] NA: AIR 27/2084.
[19] CWGC.org (accessed on 2 October 2020).