Qm Jørgen Ryhl Bineau
(1921 - 1945)
Profile
Jørgen Ryhl Bineau enlisted in the Royal Norwegian Air Force in 'Little Noway' during the Second World War. He was killed in action on 5 April 1945, shortly before the war ended.
Jørgen Ryhl Binau (or Bineau)[1] was born on 1 April 1921. He was the son of cigar merchant Emil Frantz Leopold Binau and Marie Vilhelmine Frederikke Binau (née Ryhl).[2] Bineau went to middle school in Bagsværd from 1933-1937. He continued his education at the business college in Copenhagen the following year, while working as an office clerk at the same time.
In 1938, Bineau shipped on a merchant vessel, and he remained at sea for the following three years. On 9 April 1940, the day of the German invasion of Denmark, he was onboard SS Sicilien, which had arrived in New York the day before. The vessel was requisitioned by the U.S. War Shipping Administration in mid-1941 and sunk by a German U-Boat (U-172) on 7 June 1942 in the waters near Haiti.[3] By that time, however, Bineau had long left the ship. On 27 May 1940, he had shipped on Esso Balboa, and on 28 December 1940 he shipped on the Swedish vessel M/S Chile (1937).[4] He discharged from the ship on 4 July 1941 in New York. He travelled to Canada to join the Norwegian Air Force.[5]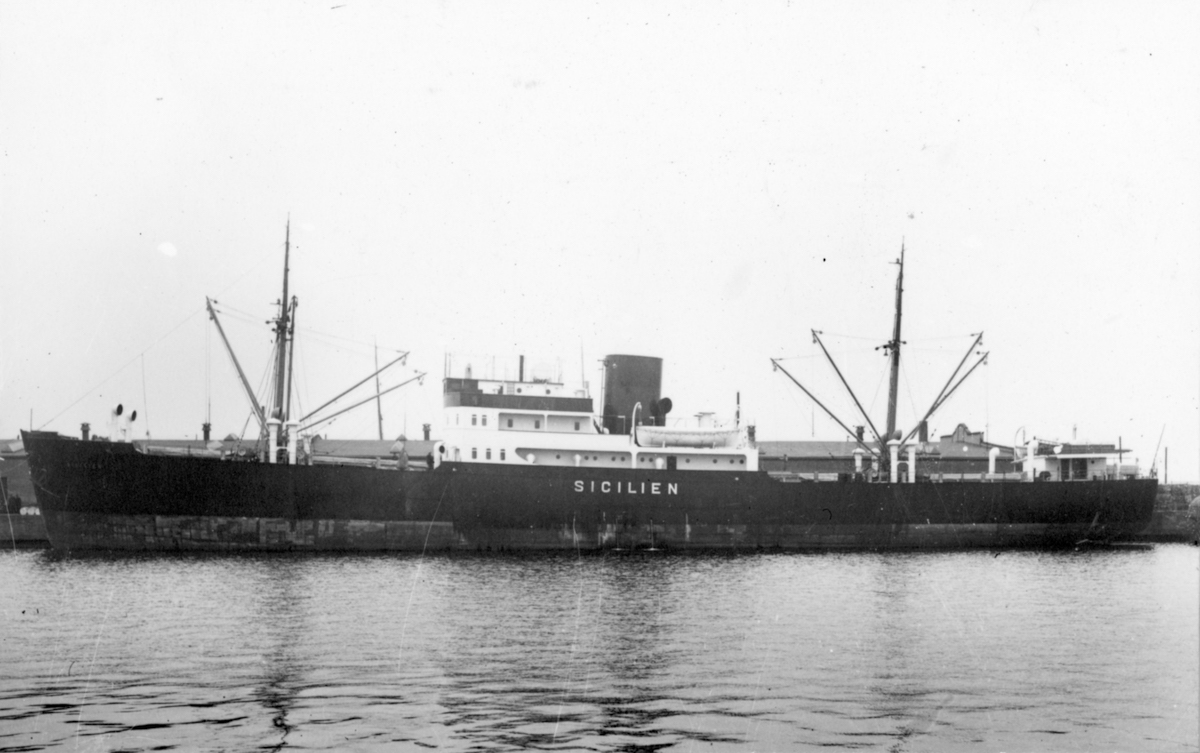 Royal Norwegian Air Force
Bineau was accepted for Norwegian service on 13 September 1941. He was trained as wireless operation mechanic, initially, but was later remustered as wireless operator and air gunner.
He was transferred to England on 2 July 1943 and received further training at various radio schools (1 RS, RAF Cranwell, 11 RS, RAF Little Sutton, and 10 RS, RAF Carew Cheriton). On 31 May 1944, he was posted to 4 OTU at RAF Alness for operational training prior to squadron posting. He was posted to 330 Squadron on 13 July 1944.[6] In 1944, when Bineau joined, the squadron operated Sunderlands out of Sollum Voe on the Shetland Islands.[7]
Another two Danish aircrew were serving at the squadron at this point. Sgt Erling Qvistgaard Hansen had been posted to the squadron in May 1942 and served in the squadron until he was posted to HQ RNAF in London on 20 August 1944. Hansen returned to operational service in the squadron in 1945. Sgt Kaj Alfred Green had been posted to the squadron on on 17 June 1944.[8] This squadron was one of two Norwegian squadrons in Coastal Command, and had been established on Iceland in 1941.
Operational Service
Bineau became part of 2Lt Naustdal's crew, carrying out his first operation, an uneventful anti-submarine patrol, on 13 July. He was part of this crew until March 1945.
Five days later, on 18 July, the crew sighted a U-boat while on patrol, but it submerged before they were able to attack. About two months later, on 20 September, Bineau's crew were on a patrol close to the Norwegian coast, experiencing flak from Sula and Utvær. Here they sighted a Dornier Do 24 and a Bf 110, both on a southerly course. The enemy aircraft turned to attack and fired short bursts at long range. The crew did not return fire, but turned west for cloud cover. Soon afterwards, off Bremangerlandet in Norway, they sighted a Ju 88 and took cloud cover again, returning to base. The following months, Bineau took part in nearly forty operational sorties, mainly patrol missions.
On 5 March 1945, Bineau took off on his last patrol as part of Naustdal's crew. On this occasion, Hansen was part of the crew as well; the operation was Hansen's first since returning to operational flying duties, and the only operation in which they both participated.
The Last Operation
On 5 April 1945, Sunderland Mk. III V/330 (PP140) was airborne from Sullom Voe at 1100 hrs, captained by Lt Benum. At 1525 hrs, the base tried to get in touch with the aircraft, but it did not respond. Five minutes later, at 1530 hrs, HQ 18 Group reported that Liberator G/311 had reported seeing a Sunderland crash into the sea. A summary of the report can be seen in the 330 Squadron operational record book.
A/C […] was passed by Sunderland ½ miles to starboard flying directly on reciprocal and at the same height. Puffs of white smoke were seen coming from one of starboard engines. Navigators also saw flame coming as he thought from exhaust. […] Mid turret and rear gunners caught glimpse 5 miles to stern of Sunderland attempt landing on the sea. Immediately afterwards the Sunderland hit water and appeared to turn over on its back. A column of smoke rose about 2000 feet.[9]
The Sunderland had crashed at a position between Iceland and the Faroe Islands. All twelve members of the crew were killed.
Endnotes
[1] His family name was Binau, but he served under the name Bineau. In my wirk I have therefore used the name Bineau.
[2] DNA: Parish record, Vanløse Sogn.
[3] Tortzen, C., Søfolk og skibe 1939-1945: Den danske handelsflådes historie under anden verdenskrig (1981).
[4] Ancestry.co.uk: New York, Passenger Lists, 1820-1957.
[5] DAHS: Bineau's service record.
[6] DAHS: Bineau's service record.
[7] Henriksen, V. Fem år i utlegd (1996).
[8] DAHS: Green's service record.
[9] NA: AIR 27/1723