Plt Off. Jørgen Billy Thalbitzer
(1920 - 1943)
Profile
Thalbitzer escaped Denmark in late 1940, and volunteered for the Royal Air Force in London in 1941. He was shot down over France in mid-1942 and became PoW. He escaped from Oflag XXI-B in March 1943, but died in the attempt to get to Sweden later that month.
Jørgen Billy Thalbitzer was born on 22 May 1920 in Copenhagen. He was the son of Carl Wilhelm Billy Nyholm Thalbitzer and Kirsten Sofie Jørgensen (nee Hansen).[1] After he had finished school, he was employed as an apprentice in the insurance company A/S Kgl. Brand, where his father worked as well. Thalbitzer continued as a clerk after his apprenticeship. According to his father, he was not a very skilled clerk as he was not very fond of office work. He was liked by colleagues, however, because of his cheerful and energetic spirit.
Thalbitzer had been interested in flying from an early age. In 1939, only eighteen years old, he qualified for a private pilot license. He was the youngest ever to qualify for the license at the time. He had obtained a special permission to take the exam as the legal age of flying an aircraft was nineteen.[2]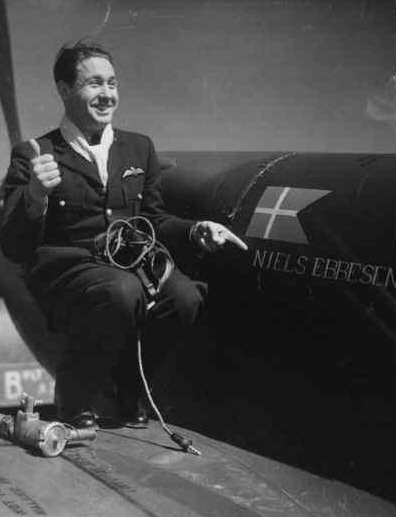 Escape from Denmark
Thalbitzer was working in Copenhagen as the German troops crossed the Danish borders in April 1940. His father recalled, years later, that Thalbitzer had insisted that point on, that it was necessary to engage in an active fight against the German oppression. In the fall of 1940, he had made plans for an escape to England. Thalbitzer planned to travel as a salesman to Istanbul, and from there to England. He made a contract with a tobacco company to travel to Turkey to by tobacco for import. On the other hand, he arranged with a producer of refrigerators to attempt the export of refrigerators to Turkey. With these contracts in hand, he obtained permission from the Ministry of Foreign Affairs to attempt the exchange of goods in Turkey.
On 26 December 1940, nine months after the German invasion, Thalbitzer escaped Denmark in company with his friend Sigfred Johannes Christophersen. Under the guise of being tobacco dealers, the couple travelled in train from Copenhagen—via Berlin, Vienna, Budapest and Bucharest—to Constanta at the Black Sea. They continued at sea to Istanbul, where they remained until the beginning of February. From the port of Mersin on the Mediterranean coast they travelled to Cyprus, where they boarded a troop ship to Cape Town. Following a short stay in South Africa, they continued on a troop ship to the British Isles. It is not exactly clear when they arrived in London, but it is certain that Thalbitzer was in London in April 1941.[3]
While Thalbitzer commenced training in the Royal Air Force, Christophersen was recruited for training as a parachute agent by the Secret Intelligence Service (SIS). He returned to Denmark in September 1941, but he had to escape in a dramatic escape over the ice-covered Sound in March 1943. Christophersen brother, Thorbjørn, and another member of the resistance K. Oxlund froze to death. In England, Christophersen volunteered for the Royal Air Force, but he was killed while in training in September 1943.
Royal Air Force
Thalbitzer volunteered for and was accepted in the Royal Air Force. He commenced flying training at 18 EFTS at Fairoaks in Surrey on 26 May 1941. In the beginning of July, he continued training at 5 SFTS (No 64 Flying Course) at Tern Hill in Shropshire. He got his wings and was commissioned as Pilot Officer on 28 October 1941.
At Tern Hill, Thalbitzer had met two fellow countrymen: Aksel Svendsen and Jens Ipsen. Svendsen had lived with his family in England for many years, and Thalbitzer and Svendsen became close friends. Ipsen had deserted the French Foreign Legion following the fall of France and the British naval bombardment of the French fleet at Mers-el-Kébir. He had managed to get from Syria to Cairo, and—accompanied by fellow Danish legionnaire André Fouchard Christoffersen—reached England in November 1940. Ipsen commenced service in the Royal Air Force on 2 February 1941.[4]
Following operational training at 56 OTU at Sutton Bridge, Thalbitzer and Svendsen were posted to 32 Sqn on 10 December 1941.[5] 32 Sqn operated Hurricanes out of Manston at the time of Thalbitzer and Svendsen's arrival. Unfortunately, Ipsen had crashed in a Hurricane (V7004) on 6 November 1941 during a training flight, and, seriously wounded, he was hospitalised. Ipsen rejoined his comrades only months later. Thalbitzer carried out nineteen operations while at the squadron, but neither of them were particular eventful. The most dramatic event during the period reflected in the operational record book took place on 16 March 1942:
A 'Panic' at breakfast time caused a hurried departure from the mess to bring another section to readiness. P/O Thalbitzer having to eat his egg in the transport.[6]
The Danish Spitfires
In October 1941, the Danish Council had established a Spitfire Fund. Funds were collected among Free Danes all over the world to realise the dream of creating a squadron of Danish Spitfires manned with Danish pilots. A total of about £40,000 was collected, which was far from the expected amount. Furthermore, the number of servicemen necessary to establish a Danish Squadron was never available.
However, on 9 April 1942—the second anniversary of the German occupation of Denmark—a check of £38,300 was presented to Prime Minister Winston Churchill at 10 Downing Street. Thalbitzer was part of the delegation representing the Danes in Royal Air Force. Later that day, during BBC's broadcast to Denmark, Thalbitzer spoke to his fellow countrymen.[7]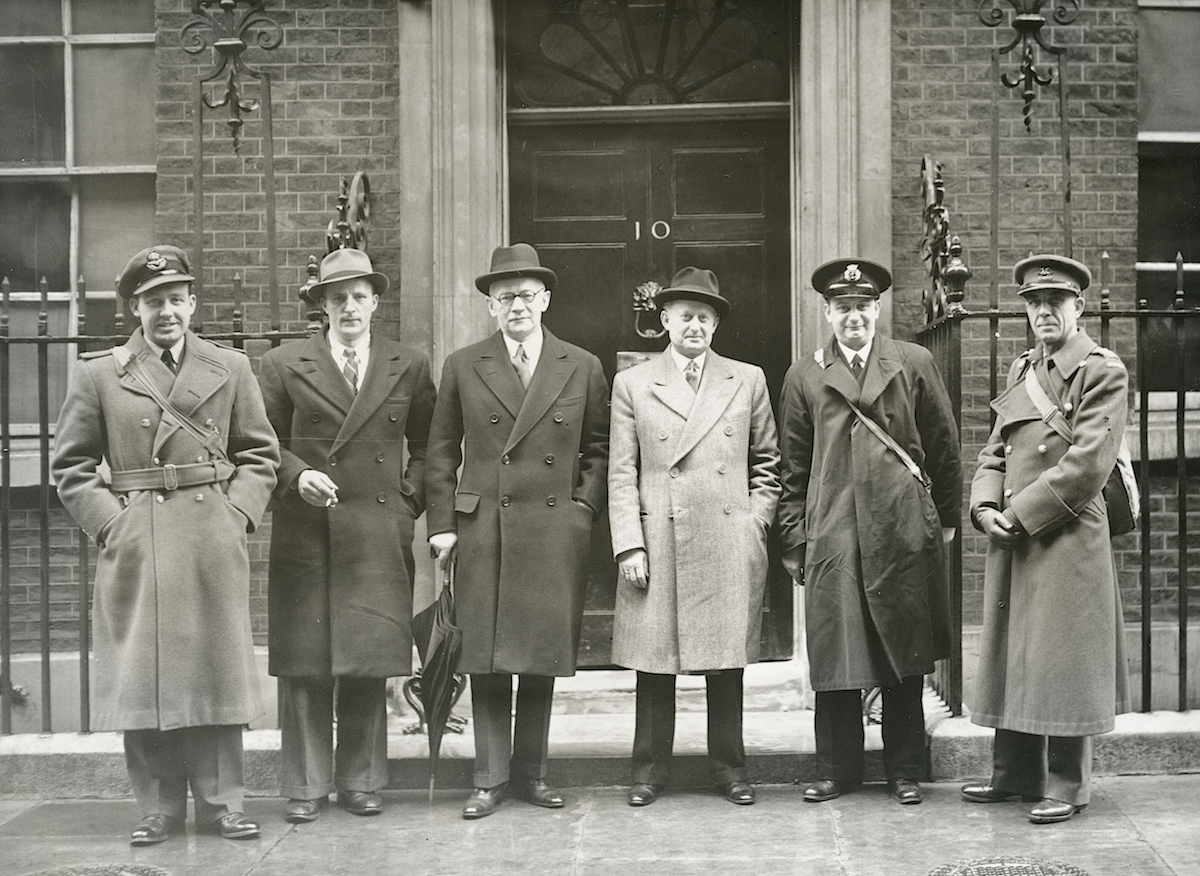 The following day, at a ceremony at RAF Station Ibsley, three Spitfires were presented to 234 (Madras Presidency) Squadron as a gift from the Free Danes. The Spitfires bore the names 'Skagen Ind.' (BL924/AZ-G), 'Niels Ebbesen' BL855/AZ-U), and 'Valdemar Atterdag' (BL831/AZ-K). A few days before, on 5 April 1942, Thalbitzer and Svendsen had been posted to the squadron, and, following the ceremony, they took two of the Spitfires to the air. The third Spitfire was flown by a British squadron leader.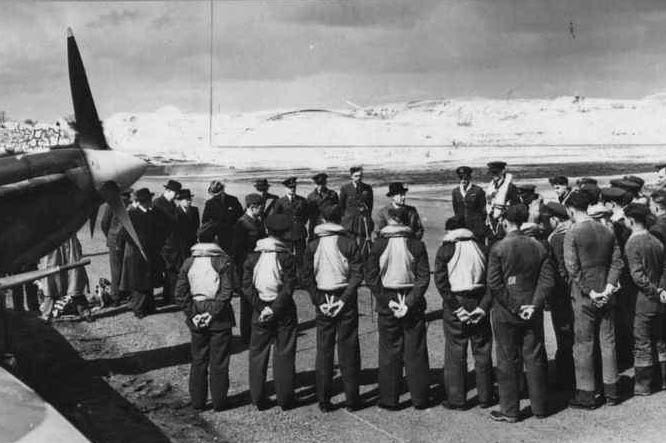 Into Action
Thalbitzer and Svendsen—as well as the Danish Spitfires—were soon to see battle. Svendsen flew a single mission on 16 April 1942. The next day, both Svendsen and Thalbitzer were in the air. Along with eight other pilots they participated in a Rodeo—a fighter sweep—over the Cherbourg peninsular, acting as top cover for 118 and 501 Squadrons. Three pilots were engaged in battle with Fw 190s from JG 2 and damaged one German aircraft. Over the following days, Svendsen and Thalbitzer flew several sorties together. This ended on 24 April 1942. During a circus operation over Northern France, the wing was intercepted by Fw 190s from II./JG 26 over the French coast at Cap Griz Nez. Four Spitfires were shot down, including Svendsen flying in BL924/AZ-G. Among the pilots lost in the battle was Flt Lt Vivian Eugene Watkins flying in BL831/AZ-K.
Thalbitzer continued flying at the squadron. However, Svendsen's death must have taken its toll on him. Svendsen had just celebrated his twentieth birthday when he went missing. Thalbitzer and him had been close friends since flying training. The squadron had been hit hard. Two complete sections, or four pilots, had been lost in the operation. On 27 April 1942, the squadron was withdrawn to regroup at RAF Station Portreath in Cornwall.
On 7 June 1942, Jens Ipsen arrived at the squadron. Eight days later, on 15 June 1942, Ipsen and Thalbitzer took off together on a patrol operation, Ipsen's first at the squadron. During the next two weeks, they flew a number operations together. These were convoy patrol operations, which were typical for the squadron's operations at this time.[8]
This changed on 23 July 1942. Thalbitzer took off from Portreath at 1520 hrs in Spitfire Vb, AB864. The squadron was carrying out a low-level attack on a number of targets between Plouescat and Guisseny in Brittany (a 'Rhubarb' operation). Radio masts, high tension cables and masts, goods trucks, a signal box and a water tower were attacked. German fighter opposition was encountered as the squadron was leaving the target area as well as light flak and machine-gun fire from Landerneau.[9] Thalbitzer's Spitfire was hit and his engine cut. He was forced to crash-land hitting overhead electric cables. The Spitfire flipped, lost one wing, and Thalbitzer landed head down. To his own surprise he was unhurt. Thalbitzer was one of four pilots lost in the operation. He managed to evade capture and for the next two weeks he walked south trying to reach the Spanish border. One day, however, he was disclosed by a French farmer and taken prisoner by the Germans.[10]
This was the end of Thalbitzer's time at 234 Sqn. He had carried out sixty-three operations since his arrival at the squadron four months previously.
Escape from Schubin
Thalbitzer was imprisoned in Stalag Luft III at Sagan in Poland (Gefangennummer 629), where he immediately became part of the group of enthusiastic escape artists, and soon, as a consequence, he ended up in the punishment camp at Schubin in Poland (Oflag XXI-B). He became a close friend of Lt. Cdr. 'Jimmy' Buckley, a Fleet Air Arm pilot who had been shot down and captured during the Norwegian campaign in 1940. Buckley was a serial-escapist, and he chaired the escape committee at Dulag Luft I, Stalag Luft II, Stalag Luft III, and now at Schubin.[11]
Around Christmas 1942 work began on a tunnel and, by the start of March 1943, it was almost ready. It was decided to carry out the escape on the fifth.[12] Thirty-three airmen went through the tunnel that night. Thalbitzer, who was fluent in German, was teamed up with Buckley. The plan was to reach Stettin on foot, where they would try to reach Denmark by ship, and then Sweden. Unfortunately, there were no Danish vessels in the port of Stettin and none expected soon. They jumped a freight train to Rostock, but had no more luck here. Eventually, they reached a small port of Flensburg, where they found two Danish schooners. They boarded the second schooner Noah, which was bound for Copenhagen. Thalbitzer debarked the ship at the post of Troense, while Buckley continued to Copenhagen. On the nearby train station at Svendborg, by coincidence, Thalbitzer ran into his father. They continued by train to Copenhagen to make preparations for Thalbitzer and Buckley's crossing to Sweden.[13]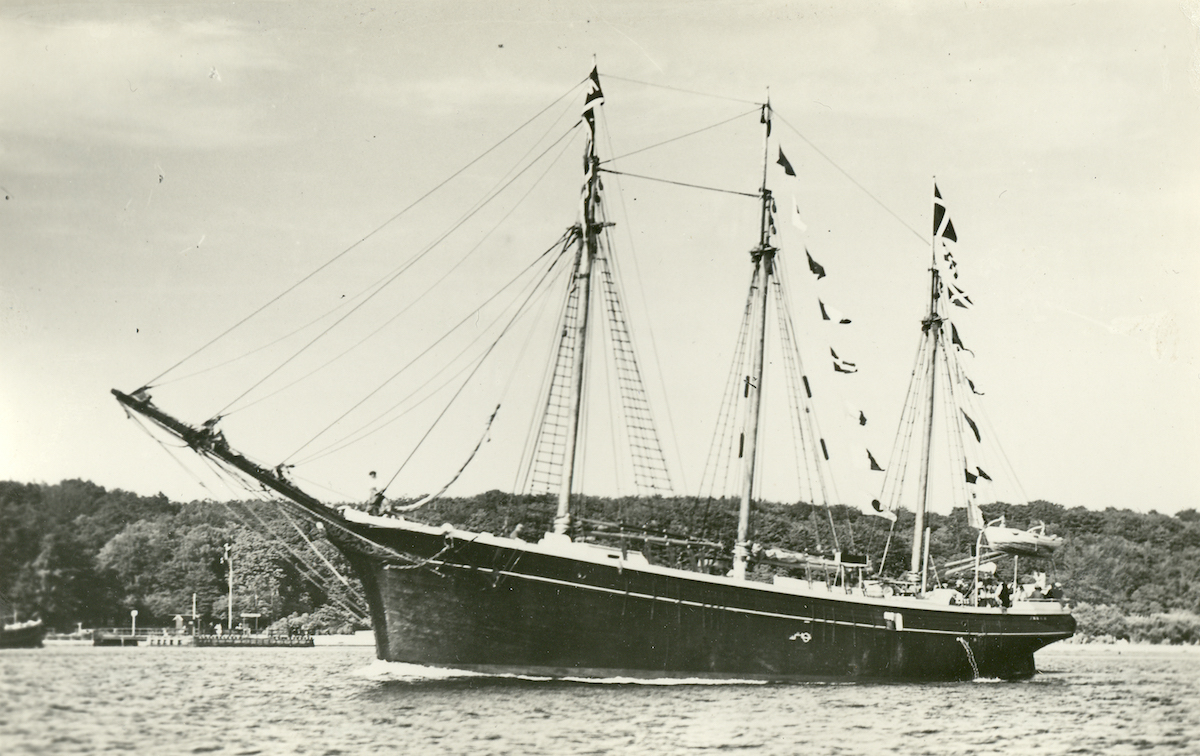 Buckley arrived to Copenhagen the following day and was picked up by friends of Thalbitzer. The following days, they were living in hiding at different adresses in Copenhagen.

One of these addresses was the apartment of Dr. Allan Gammelgaard, where Thalbitzer stayed for a couple of days. Thalbitzer was reunited for a short while with his girlfriend, Gerda Yde, and he proposed to her before leaving for Sweden. A few monts later, in October 1943, Allan Gammeltoft became a central figure in the evacuation of the Danish jews. He was also the brother of Dr. Henning Gammeltoft, who—following his assistance to the Jews—escaped to Sweden, then England, where he eventually joined the Royal Air Force as a medical doctor.

Gammeltoft had contacts who were able to organise the crossing to Sweden, and then Britain. One of them was Mogens Hammer, the Special Operations Executive's representative in Denmark. Hammer asked Jørgen Røjel and some of his friends from the Danish Students' Rowing Club to arrange for Thalbitzer and Buckley to cross via their route at Snekkersten, south of Elsinore.[14]

On 28 March 1943, Gammeltoft, Thalbitzer and Buckley went by train to Snekkersten, where a two-man folding canoe was hit in a garden. At 2200 hrs., they pushed the canoe into the water and began paddling towards Sweden, aiming for a firehouse just south of Helsingborg. They were never seen again.

On 2 July 1943, the body of an unidentified man was discovered in the water at Vejby Strand. The man, believed then to be an unidentified seaman, was buried at Tibirke five days later. Fourteen days later, Thalbitzer's farther received a telephone call from the police notifying him that his son was believed dead. The police report left him without doubt that the unidentified body found earlier in July was indeed his son. It described in detail the signet ring he had himself worn for many years before giving it to his son.[15] On 27 July 1943, the Ministry of Ecclesiastical Affairs gave permission for the body to be excavated by the police in order to do an autopsy. The body was identified as Thalbitzer's.[16] Thalbitzer was buried at Vestre cemetery in Copenhagen. The body of Buckley was never found.
Endnotes
[1] DNA: Parish records, Trinitatis and Blaagaard.
[1] Thalbitzer, 1945, p. 7-8.
[3] Thalbitzer, 1945.
[4] Ipsen, 2015, p. 100-105.
[5] NA: AIR 27/362.
[6] NA: AIR 27/362.
[7] Thalbitzer, 1945, p. 41-43.
[8] NA: AIR 27/1439.
[9] NA: AIR 27/1439.
[10] Ash, 2006, p. 238-244.
[11] Ash, 2006, p. 241.
[12] Ash, 2006, p. 206-219
[13] Thalbitzer, 1945, p. 61-87.
[14] Røjel, 1973.
[15] Thalbitzer, 1945, p. 88-97.
[16] DNA: Tibirke parish.