John Friis Lauesen
(1915 - 1944)
Profile
John Friis Lauesen was born in Denmark, but naturalised in the USA before the Second World War. He lost his life in September 1944, when his P-51 was shot down by flak over Germany. He was one of three brothers, all pilots, who was killed during the war.
John (or Johan) Friis Lauesen was born on 18 January 1915 in Vejen, Denmark. He was the second son of five of Jens Lauesen and Nielsine Hermine Friis Lauesen (née Friis).[1] The family emigrated to the USA in 1923 settling in Chicago, Illinois.[2] Jens Lauesen—and thereby the rest of the family—was naturalised in the USA in 1928.[3] I have no information on his upbringing at this point. It is likely that he attended Senn High School as his brothers.
Lauesen's oldest brother Herman died in a car accident in 1929. His two younger brothers Christian and Frederick both died as pilots during the Second World War.
359th Fighter Group
Lauesen enlisted in the US Army, Air Corps on 10 May 1943. According to the enlistment records he had by then finished one year of college.[4] He was trained as pilot.

He was posted posted to 359th Fighter Group on 13 August 1944.[5] By then, he had been promoted to 2nd Lt (O-204937). This fighter group was created in December 1942 and activated at Westover Field, Massachusetts, in early 1943. The group transferred to the British Isles in October 1943 and flew its first operation over France in December 1943. The group was equipped with the P-47 Thunderbolt, initially, but flew its first all-Mustang mission on 6 May 1944. The main role of the fighter group was to provide penetration, target and withdrawal escort for bombers, but on occasion the group operated against ground targets.[6]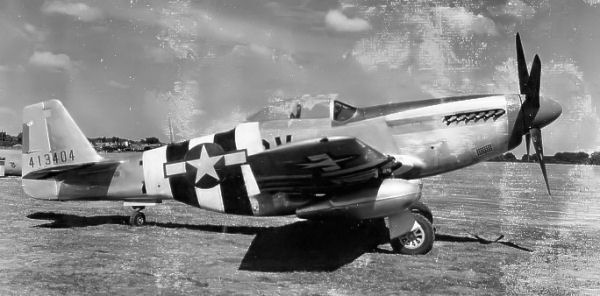 Last Flight
On 25 September 1944, 359th Fighter Group was back in the bomber escort role. The group was to provide escort for bombers targeting Frankfurt. Lauesen took of from East Wretham (Station 133) in P-51D Mustang (44-14100). He was flying as Yellow 4 as the wingman of 1st Lt Chester R. Gilmore, Jr.
Rendezvous with the bombers was missed, but the fighters pressed on for the target area. As the aircraft passed Wiesbaden at 1015 hours encountered flak.[7]
2nd Lt. John F. Lauesen was fixing my wing in Yellow Four position at the time we encountered the flak. It was at approximately 1015, in the vicinity of Wiesbaden. The flak first started to burst almost directly behind us and the whole flight turned sharply to the right in a slight dive. I was in a very steep bank and saw Lt. Lauesen going almost straight down into the overcast. I watched him till he disappeared, and after about two minutes I called him twice on the radio, I received no answer, but I know his radio reception and transmission was good because I had called him slightly before. It is quite possible that he was hit by flak, as it was very close astern.1st Lt. Chester R. Gilmore, Jr.[8]
The squadron did not see Lauesen going down. On the ground, the flak battery at Oberliederbach fired its eight 88mm caliber guns. The guns were operated by a mixed crew; old, trained flak soldiers, boys from the nearby schools, and Russian POWs. The battery fired above the clouds as 368th Fighter Squadron passed in the skies above. Shortly afterwards they heard a plane coming from east at low altitude. A P-51 with a smoke-trail behind passed over Oberliederbach at 1,500 feet. Lauesen had baled out and was above and behind the aircraft, but the parachute did not open as it should. The aircraft and Lauesen crashed 500-1,000 yards from the battery; he was lying about 200 yards from the aircraft. He was dead.
Lauesen was buried at a little cemetery in Oberliederbach, initially.[9] He was later transferred to Lorraine American Cemetery and Memorial.[10]
Endnotes
[1] DNA: Parish registration, Vejen Sogn.
[2] Ancestry: New York, Passenger and Crew Lists (including Castle Garden and Ellis Island), 1820-1957.
[3] Ancestry. Illinois, Federal Naturalization Records, 1856-1991.
[4] Ancestry: U.S., World War II Army Enlistment Records, 1938-1946.
[5] Fogg, Janet and Richard Fogg. (2019). Tales from the 359th Fighter Group: World War II, p. 82-86.
[6] Smith, J. (2002). 359th Fighter Group, pp. 9-65.
[7] Smith, op.cit.p. 65.
[8] NARA: MACR 9241.
[9] Fogg, op.cit.
[10] Ancestry: Global, Find A Grave Index for Burials at Sea and other Select Burial Locations, 1300s-Current.