Christian Friis Lauesen
(1919 - 1944)
Profile
Christian Friis Lauesen was born in Denmark, but naturalised in the USA before the Second World War. He lost his life in January 1944, serving as pilot in the US Marines in the Pacific. He was one of three brothers, all pilots, who was killed during the war.
Christian (or Kristian) Friis Lauesen was born on 26 June 1919 in Vejen, Denmark. He was the third son of five of Jens Lauesen and Nielsine Hermine Friis Lauesen (née Friis).[1] The family emigrated to the USA in 1923 settling in Chicago, Illinois.[2] Jens Lauesen—and thereby the rest of the family—was naturalised in the USA in 1928.[3] Lauesen attended the Senn High School in Chicago, Illinois,[4] before continuing education at the University of Arizona.
Lauesen was a member of the Sigma Nu fraternity and a pitcher for the college baseball team—the Wildcats—and a letter winner in 1941-42.[5] He was really tall and muscular with blond hair and blue eyes, athletic and addicted to sports and exercise.[6]
Lausen's oldest brother Herman died in a car accident in 1929. His older brother John and his younger brother Frederick both died as pilots during the Second World War.
US Marine Corps
Lauesen enlisted in the US Marine Corps, most likely, at some point in 1942. He was trained as pilot. He married Joy Noreen Herbon in Cook County, Illinois, on 2 June 1943, shortly before going overseas.[7] He joined the Marine Fighting Squadron 422 (VMF-422).
VMF-422 was established on 1 January 1943 in San Diego, but moved to Marine Corps Air Station (MCAS) Santa Barbara later that month. In July 1943, the squadron came under the command of Major John S. MacLaughlin, Jr.[8] Lauesen had joined the squadron by then.[9] The squadron converted to the F4U-1D Corsair in mid-August 1943, and the following month the squadron boarded the USS Bunker Hill (CV-17) for operations at Midway Island during the following months.
Marine fighter squadrons in Hawaii was rotated to Midway for two months for advanced training in conditions that were technically a war zone, but offered little chance of actual combat.[10] The squadron consisted of twenty-four aircraft, divided into three flights of eight aircraft and subdivided into divisions of four aircraft. Lauesen was part of MacLaughlin's first division in Red Flight flying as Red 3 with 1Lt Ken Gundersen as his wingman.[11] During the time at Midway the squadron flew well-used F4U-1A based at Eastern Island.[12]
The squadron was posted to MCAS Ewa Field on Oahu in December and boarded the USS Kalinin Bay (CVE-68) in late January 1944. The aircraft carrier sailed for the Gilbert Islands arriving off the Tarawa Atoll on 24 January 1944. Twenty-four F4U Corsairs were catapulted from the aircraft carrier and landed at Hawkins Field on Tarawa Island. MacLaughlin touched down at 0950 hours.[13]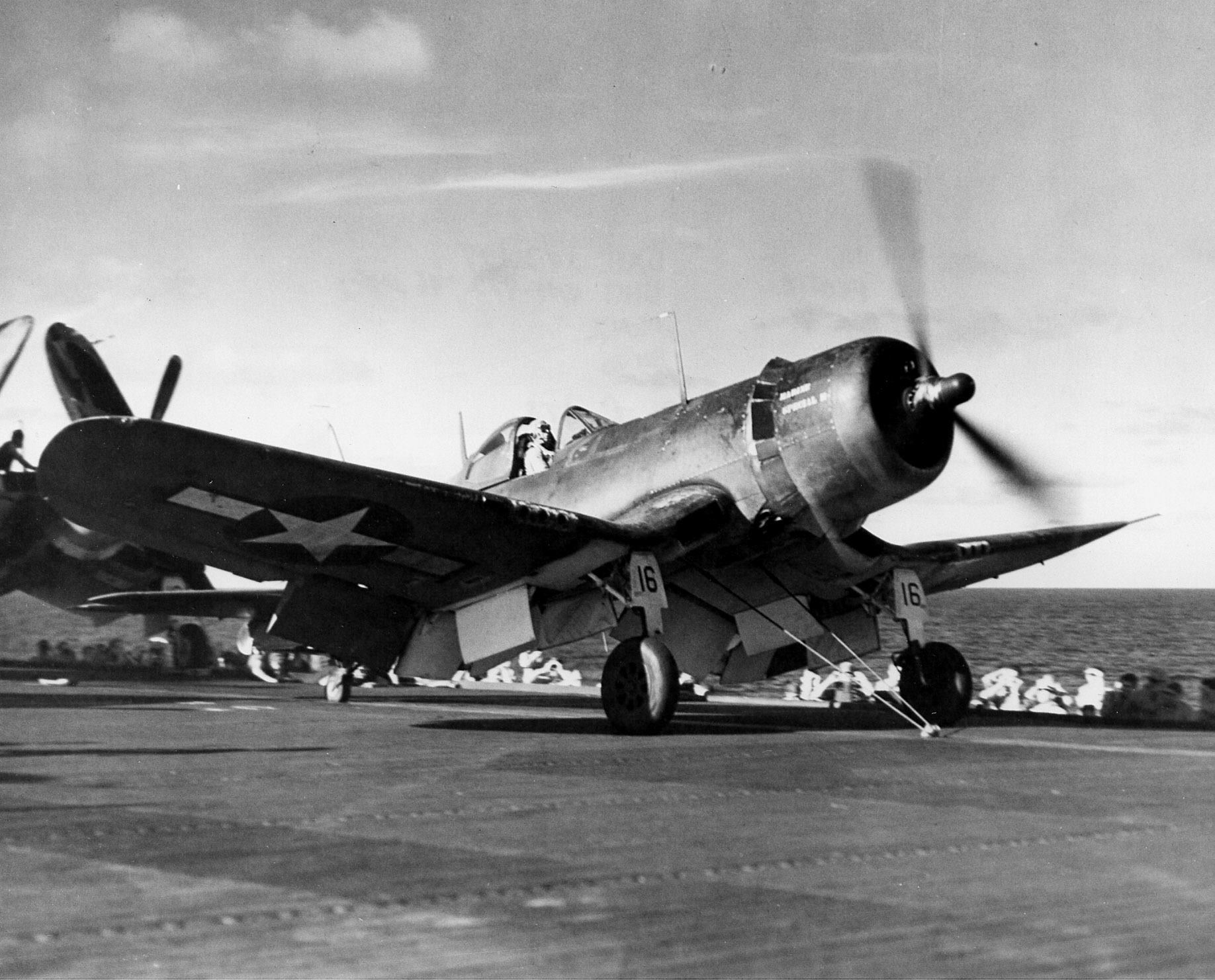 The Lost Squadron
Soon after landing, the squadron received orders to continue for Funafuti via Nanumea. This was a flight of 820 nautical miles over open waters, with a first leg of 463 miles. The squadron began taking off in pairs the following morning, 25 January, at 0937 hours. Red Flight was first in the air led my MacLaughlin, and with Lauesen and Gundersen following close by.[14] The flight did not turn out as planned. A number of failures in the planning of the sortie led them to fly into a major storm. They had been given an outdated weather forecast and had not been authorised an escort plane for the journey. Ten aircraft were lost during the flight and the remaining thirteen aircraft were forced to crash land in the sea.
Lauesen was one of the pilots, who was lost in this day. At some point during the flight, he begun having difficulties with his engine probably because of the heavy rain, and suddenly his engine cut. He tried to restart, but without luck. He ditched his F4U-1A *Marine Special* (17933) in the heavy sea. Gundersen stayed with Lauesen as he slid down to the sea. He went right in and for a moment the Corsair disappeared. Moments later Gundersen saw Lauesen in the sea, and 1st Lt Lehnert, who arrived moments later, discovered that Lauesen had not been able to retrieve his life raft and was only helped by his May West.[15]
Despite orders to continue towards Funafuti, Lehnert remained circling over Lauesen for about two hours, before realising that rescue would not arrive before he himself would run out of fuel. He remained in the air as long as possible, but then decided to ditch as near to Lauesen as possible. He planned for both of them to use his life raft. Lehnert managed to ditch and enter the life raft, but he never made contact with Lauesen.[16]
Lauesen disappeared and was declared missing in action. A year later, he was declared death for official purposes.[17]
Endnotes
[1] DNA: Parish registration, Vejen Sogn.
[2] Ancestry: New York, Passenger and Crew Lists (including Castle Garden and Ellis Island), 1820-1957.
[3] Ancestry. Illinois, Federal Naturalization Records, 1856-1991.
[4] Ancestry: U.S., School Yearbooks, 1900-1990.
[5] Desert, University of Arizona Yearbook, 1941-41.
[6] Carlson, M. (2017). The Marines' lost squadron: the odyssey of VMF-422, p. 48 and 51.
[7] Ancestry: Cook County, Illinois Marriage Index, 1930-1960.
[8] NARA: VMF-422 War History.
[9] Carlson, M. (2017). op.cit., p. 50-51.
[10] Op.cit., p. 91.
[11] Op.cit., p. 62.
[12] Op.cit., p. 91.
[13] Op.cit., p. 108.
[14] Op.cit., p. 129.
[15] Op.cit., p. 150-1.
[16] Op.cit., p. 176-7.
[17] Ancestry: World War II Navy, Marine Corps, and Coast Guard Casualties, 1941-1945.