Fg Off. Niels Peter William Pedersen
(1923 - 1945)
Profile
Niels Peter William Pedersen served in RAF Bomber Command during the Second World War. He is killed in February 1945.
Niels Peter William Pedersen was born on 29 September 1923 in Helsinki, Finland, to Danish parents. Niels Jørgen Johannes Pedersen and May Mary Pedersen (nee Smith) had been married in England the year before, and Pedersen was raised in Hertfordshire, England.[1] Pedersen was Danish national. He was working as a solicitors clerk.[2]
Royal Air Force service
Pedersen enlisted in the Royal Air Force on 30 September 1941, the day after he had turned eighteen. He had served in the Air Training Corps prior to enlistment. Pedersen was recruited for training as pilot, but seems to have been sent home on the reserve initially. While waiting to commence training, he was in contact with the Recruiting Office of Danish Nationals to become part of the Danish flight, but this unit never materialised. On 22 June 1942, he was posted to 1 Air Crew Recruitment Centre and, on 11 July, 12 Initial Training Wing on 11 July. Four months later, on 20 November 1942, he was posted to 11 EFTS. He was remustered for training as air bomber in January 1943, and, on 1 May 1943, he was posted to Canada for further training. He trained at 1 BGS at Jarvis, Ontario, from 26 July 1943 and returned to England—RAF Station Harrogate—in December. He was promoted to Pilot Officer and, on 16 May 1944, he was posted to 3 (O) AFU. He trained operationally at 28 OTU from 20 June 1944 before being posted to 170 Sqn on 2 November 1944, as part of Fg Off. Alexandra's crew. By then, he had been promoted to Flying Officer. Pedersen's squadron had been re-formed at RAF Kelstern as a heavy bomber-squadron equipped with Lancasters. The nucleus of the re-formed squadron was the "C" Flight of 625 Squadron.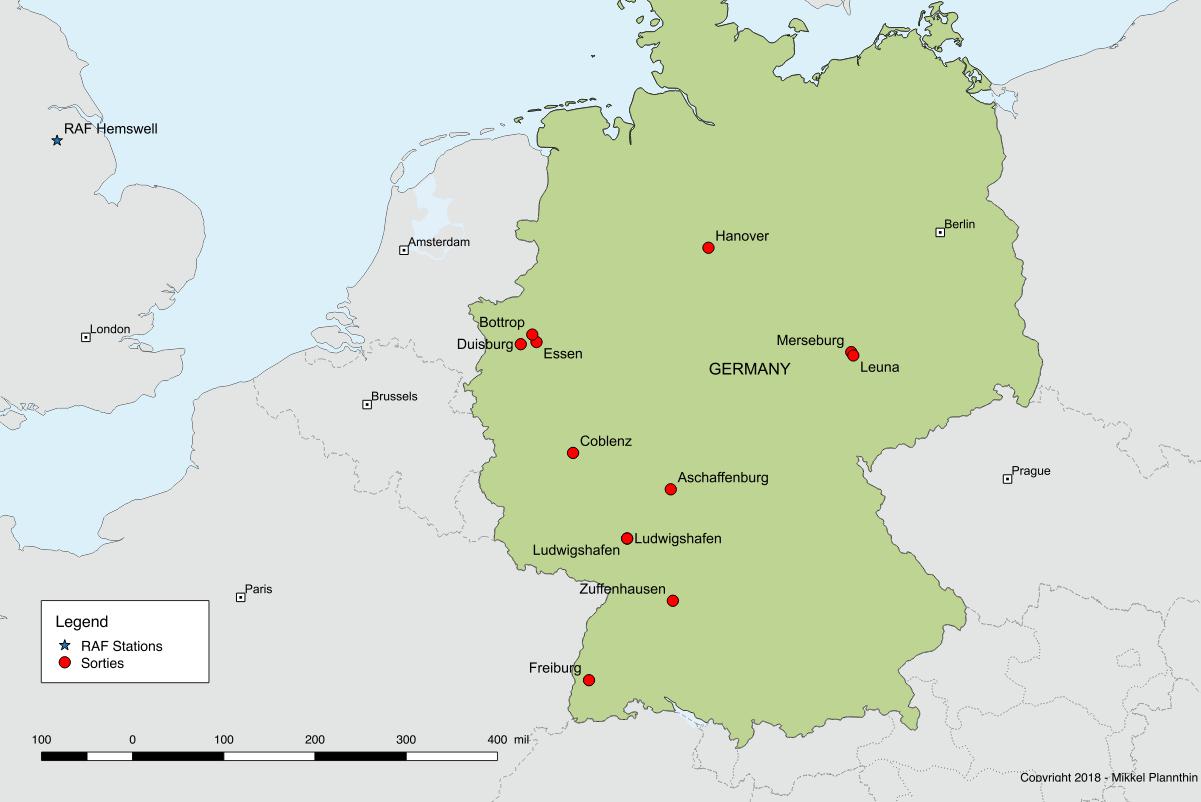 Into Operations
Pedersen's first operation was the attack on Aschaffenburg on 21 November 1944. The objective of this raid was to destroy the railway lines through the city. Lancaster B III PB397/X took off at 1554 hours from RAF Station Hemswell. It was one of twenty aircraft from this squadron detailed for the attack. Aschaffenburg, a communications centre on the Rhine, was covered by cloud. Pedersen bombed by means of sky markers on fires on the ground at 1922 hours from 12,000 ft. The aircraft returned safely to base at 2222 hours.
Six days later, both Pedersen and another Danish airman, air gunner Flt Lt Peter F. Fischer, took part the raid on Freiburg. This was the first attack of the war on this city. On several occasions both Danes participated in the same operations.
Pedersen flew four operations more before the end of the year, against the synthetic oil factory in Leuna, near Merseburg, on 6/7 December, Essen on 12/13 December, Ludvigshaven on the 15th, and on Coblentz on the 22nd.[3]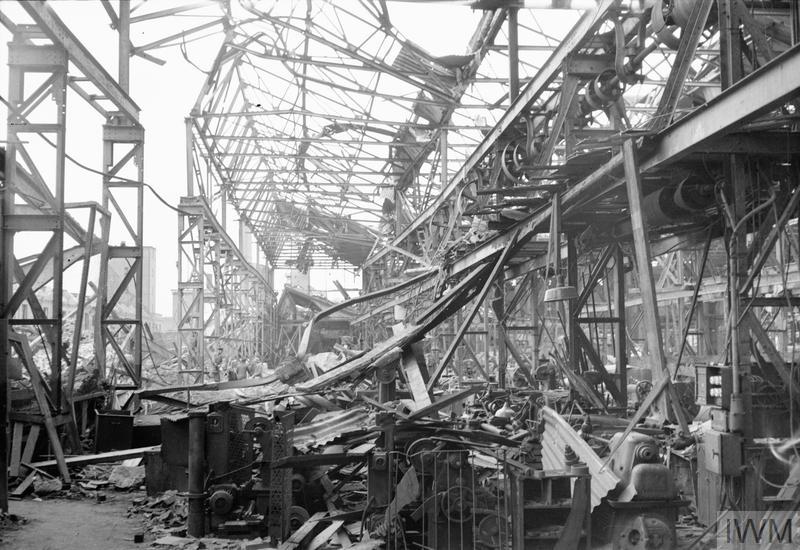 The first attack of the new year was the raid on Hannover on 5 January. This was the first attack on the city since 1943, and the attack was carried out in two waves. Fischer was part of the first wave, while Pedersen was part of the second. As Pedersen's crew approached the target they were able to see the fires started by the first attacks 80-100 miles from Hannover. The smoke from these fires made visual identification of the target difficult, but they bombed on the red target indicators. As the crew returned to base, the fires were visible from an even further distance than on arrival. Operations continued: Leuna (on 14/15 January), Duisburg (on 22/23 January), Zuffenhausen a suburb of Stuttgart (28/29 January, and Ludwigshafen (on 1/2 February).[4]
Pedersen was killed in action on his next operation. On 3/4 February, the target was the Prosper benzol plant at Bottrup. Lancaster NN739/Q took off from Hemswell at 1633 hours, but nothing was heard from the crew after take-off, and the crew was lost. This was Petersen's twelfth operation since arriving at the squadron in November 1944.[5]
Endnotes
[1] Ancestry.com: England and Wales Marriage Index 1916-2005.
[2] Service record, A.M. Form 1406.
[3] NA: AIR 27/1096.
[4] NA: AIR 27/1097.
[5] NA: AIR 27/1097.