Pfc. Niels Tuxen
(1915 - 1982)
Profile
PFC Niels Tuxen was one of the young Danes serving in the US Army Air Force during the Second World War. He arrived in the United States in late 1940 and enlisted in 1942. The nature of his service is not clear, but he was trained as a radio technician before the war.
Niels Tuxen was born on 23 November 1915 in Copenhagen, to Peter Vilhelm Tuxen and Eli Tuxen (née Mauritzen).[1] The family moved to the town of Middelfart in 1920 as Tuxen's father became chief physician at the county hospital.[1]
Tuxen was one of several later Danish volunteers educated at Sorø Academy, a boarding school in the small town of Sorø about 75 km south-west of Copenhagen. Tuxen attended middle school from 1929 (5th grade), but left the school in 1931.[3] It is not clear where he continued his schooling, but he was later trained at the Aarhus Electro Technical College (Aarhus Teknikum).[4]
Tuxen's cousin was Ole Mauritzen, who served in the Royal Air Force. During the war.
Leaving Denmark
Tuxen seems to have left Denmark after the German occupation on 9 April 1940. He arrives in Baltimore, Maryland in the United States from Durban South Africa on 3 December 1940. His last residence place is in Aarhus in Denmark and his profession was seaman according the passenger list.[5] His South African visa had been issued on 22 October 1940 leading to the obvious, yet speculative, assumption that hed only then arrived in South Africa. His family in Denmark knew that he was in South Africa at the time.[6]
Tuxen stayed at his uncle Kai Theodor Mauritzen in Hartford, Connecticut, and the local new report that he 'had arrived to pass the winter' with them.[7] However, after five months he began to settle. At least he formally declared his intention to become a US Citizen in Hartford on 28 April 1941.[8] He had good use of his background as an electro technician; He was employed by R.G. Sceli & Co, a wholesale business dealing with radio gear.[9]
Enlisting in the US Army Air Force
Tuxen enlisted in the US Army Air Force on 11 September 1942 (31189336).
In November 1942, the local Hartford newspaper reported, that he trained as radio operator-mechanics at the Air Forces Technical School in Chicago. At the end of training he would be eligible to serve as radio technicians with communications of Air Forces ground units or may join bomber crews as radio operators after training as aerial gunners.[10] Tuxen most likely lived and trained at the former Stevens Hotel, which had been taken over by the Army Air Force for use as a training school, and as such it housed nearly 10,000 men.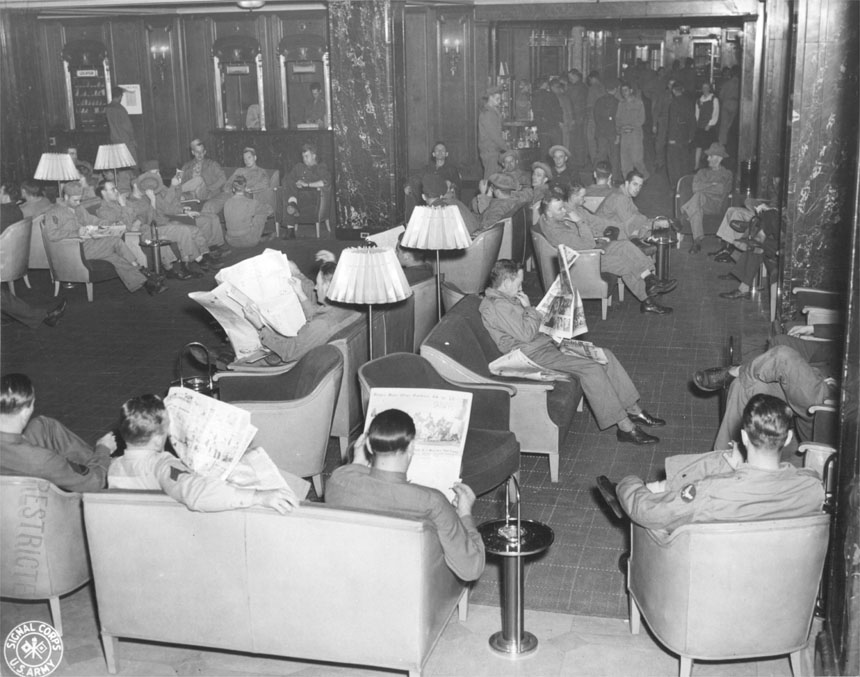 In May 1943, Tuxen was naturalised as US Citizen in Arizona. He served at this point as Private First Class in 981st Two-Engine Flying Training Squadron at Williams Field, Arizona.[11]
Thousands of P-38 Lightning pilots were trained during the war at Williams Field. Initially learning their twin-engine flying skills in the Beech AT-10 Wichita, from 1944 cadets would train on the RP-322 training version of the P-38.[12] Royal Air Force had originally ordered the Lightning I (Model 322) powered with the Allison V-1710-C15 engines without turbosuperchargers. The aircraft were never delivered to the Royal Air Force and many were used as trainers in the United States. At least eighty-five of the 143 built were used to train future P-38 pilots at the 318th Twin-Advanced Flying Training Group (TEAFTG) and its two squadrons, the 981st and 982nd Twin-Engined Advanced Training Squadrons.[13]
There is no information on the nature of his service. Therefore, it is not possible to say, if he was still working as a radio mechanic or if he had continued to aircrew training.
Tuxen was married to Gertrude Matthiasen in Cook County, Illinois, on 3 Mar 1943.[14] After the war he joined the Dutch company Phillips. He died in the United States on 31 December 1982.[15]
Endnotes
[1] DNA: Parish register, Helligånd Sogn.
[2] Engelstoft, P. & Fenger, V. A. (1949). Den danske lægestand 1936-1949, p. 736.
[3] Pedersen, M. (1970). Soraner-biografier 1901-1960 : Indledt med biografier over 96 lærere, der har virket på Sorø Akademis Skole i tidsrummet 1892-1960, 4:14.
[4] 130 Apply for Veterans High School, Hartford Courant, 7 Aug 1946, p. 16.
[5] Ancestry: Baltimore, Maryland, U.S., Passenger Lists, 1820-1964.
[6] DNA: 1940 Census of Denmark.
[7] Hartford Courant, 19 Jan 1941, p. 25.
[8] Hartford Courant, 19 Jan 1941, p. 25.
[9] Ancestry: U.S., World War II Draft Cards Young Men, 1940-1947.
[10] News of Local Men in Armed Services, Hartford Courant, 19 Nov 1942, p. 20.
[11] Ancestry: Arizona, U.S., Naturalization Records, 1909-1991.
[12] Williams History, Air Force Civil Engineer Center. Retrieved from https://www.afcec.af.mil/Home/BRAC/Williams/History/ (19 July 2022).
[13] Blake, S. (2020). Lightning strikes : the Lockheed P-38.
[14] Ancestry: Cook County, Illinois Marriage Index, 1930-1960.
[15] Ancestry: U.S., Department of Veterans Affairs BIRLS Death File, 1850-2010.