FS Erik Flohr Jacobsen
(1917 - 1944)
Profile
Erik Flohr Jacobsen enlisted in the Royal Air Force in 1942 and was trained as fighter pilot. He was killed in late May 1944 during a low-level attack on a train in Brittany, France.
Erik Flohr Jacobsen was born on 9 October 1917 in Risskov, Denmark. He was son of Svend Nicolai Adolf Jacobsen and Emma Kathrine Jacobsen (née Christiansen).[1] He was trained in business before the war and, by the outbreak of war, he worked for his uncle in Sao Paolo, Brazil. In 1940, following the German occupation of Denmark on 9 April, Jacobsen desired to leave for Europe to join the fight. However, his uncle—who was also the local Danish consul—would not allow him to leave. Jacobsen's brother had been killed in a car accident while staying in Brazil, and the uncle was afraid to lose him as well if he enlisted. Nonetheless, Jacobsen was adamant. He arranged to travel to England through the Norwegian consulate in instead, and by using a presumed name.[2]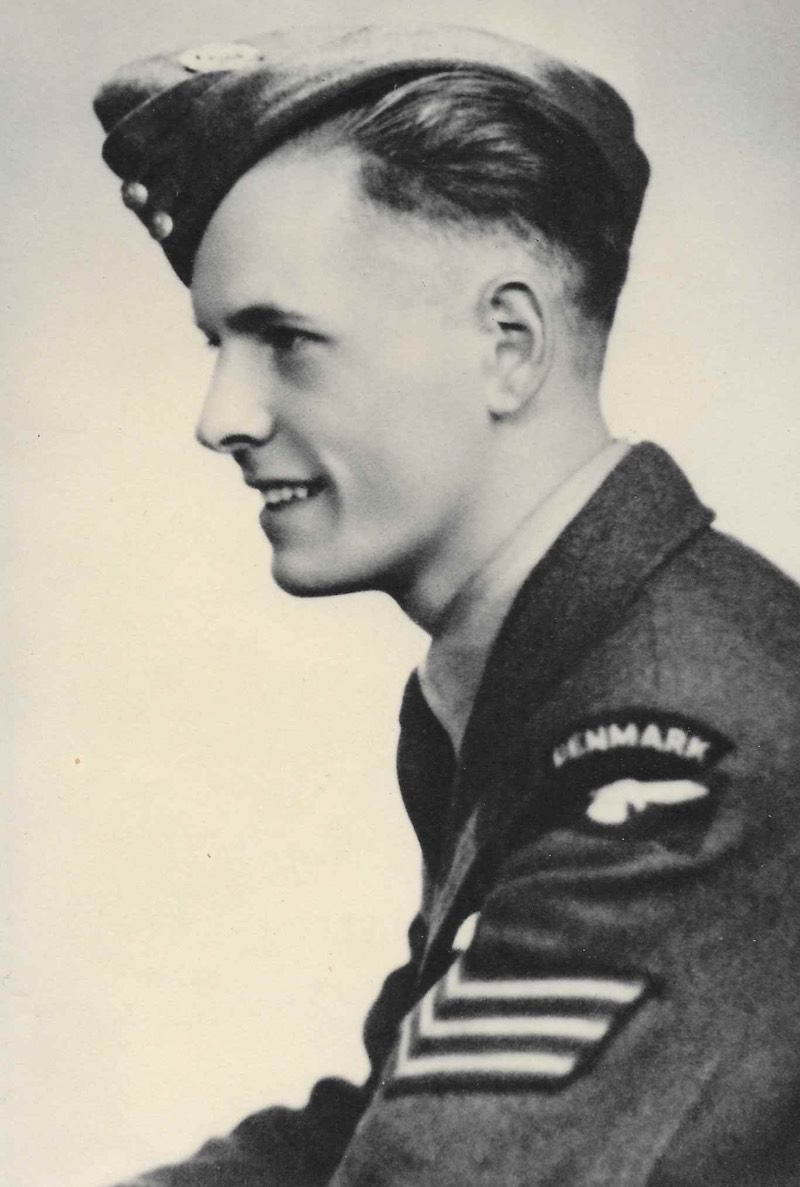 Royal Air Force
Jacobsen arrived in London at the beginning of 1942, and soon made contact with the Recruiting Office, Danish Nationals. Captain Iversen, the recruiting officer, wrote a letter of introduction to Sqn Leader P. M. Shone of the Air Ministry on 12 march 1942 introducing Jacobsen as an eager candidate for the Royal Air Force.
This serves to introduce Mr. Flohr Jacobsen, a Danish subject, who has arrived from Sao Paolo for the sake of joining the British Forces. Mr. Flohr Jacobsen has set his heart on joining the Royal Air Force and becoming a pilot, if this is possible. I would be greatly obliged if you would be kind enough to see if you think there is any possibility for him. I may be allowed to point out that he is unfortunately not able to support himself for very long and I have promised to do what I can for him to try to get him into the R.A.F., if he is found suitable.[3]
Jacobsen enlisted in the Royal Air Force shortly afterwards. His service number (1804003) suggests that he enlisted at the recruiting office at Euston, but the exact date is not available. Neither are the details of his early training, but is is likely that he trained in Canada as did a number of other Danish pilots at that time. The training of pilots for the Royal Air Force was part of the British Commonwealth Air Training Plan (BCATP).
At the end of service training, Jacobsen was posted to 5 (P) AFU at Tern Hill on 15 June 1943 (No. 63 Intake). Another Danish pilot, Vagn Christensen, was part of this intake as well.[4] Both pilots were posted to 53 OTU at RAF Hibaldstow in August 1943, and trained here until 24 November 1943.[5]
The "Danish" Squadron - 234 Sqn
Jacobsen and Christensen were posted to 234 (Madras Presidency) Squadron on 24 November 1943. This squadron was the closest the Free Danes got to a Danish squadron. In April 1942, three Spitfires financed though the Danish Spitfire Fund had been donated to the squadron. At the same time, the first two Danish pilots to serve in the squadron had been posted. A total of nine Danish pilots served in this squadron during the war. Jacobsen and Christensen's posting to the squadron in November 1943 marked the beginning of the third period of Danish pilots at the squadron.
The squadron was in a transitional phase and not operational, when Jacobsen and Christensen arrived at RAF Hutton Cranswick. The squadron moved to RAF Church Fenton at the end of December, but they still saw little action. On 28 January 1944, the squadron moved to RAF Coltishall and operations became more frequent, even if the level of activity was still not high.[6] Christensen flew a couple of operational missions during February, but Jacobsen was yet to fly operationally.[7]
On 18 March 1944, the squadron moved to RAF Bolt Head on the south Devon coast. Five days later, Jacobsen flew his first operational mission, a shipping reconnaissance operation (Jim Crow). Eight aircraft were airborne at 15.05 hrs. led by Sqn Ldr P. L. Arnott, DFC, and flying in two sections. One section went to St Malo and returned via St Peter Port, while the other section went to Morlaix via Lannion. Neither section had anything of importance to report, and they landed separately and safely back at base. Early next morning, Jacobsen flew his second mission, when he took off at 06.25 hrs. to patrol for German motor-torpedo boats (E-boats). Jacobsen flew another two operations at the squadron on 25 and 31 March. On both occasions, he was scrambled from base, while on standby. The squadron has pilots on standby around the clock, each flight doing 24-hour shifts from midday to midday.[8]
1 Squadron
Four days later, Jacobsen and Christensen were posted to 1 Squadron. Another two Danish pilots were posted to the squadron at the same time; Kjeld C. J. Pedersen, who had joined them at 234 Sqn in March, and Jørgen Preben Herner Petersen.
The four Danish pilots arrived at the squadron on 7 April.[9] The squadron was in a transitional phase, when Jacobsen arrived at the squadron. The squadron had moved to RAF Station North Weald only days before to convert from Hawker Typhoon to Spitfire. The squadron was one of only a few squadrons to convert from the Typhoon fighter, and some of the more experienced pilots were posted to other Typhoon squadrons. This made room for the arrival of a number of replacement pilots, including the four Danish pilots.
In the run up to the invasion of Northern France many squadrons spent a couple of weeks practicing their gunnery skills. This squadron was off to 14 Armament Practice Camp at Ayr in Scotland on 22 April. They squadron returned on 29 April, but instead of returning to North Weald, they were posted to Predannack in Cornwall.[10]
Jacobsen returned to operational flying on 5 May, patrolling over a convoy south of the Lizard. He flew a number of such, rather eventless, patrol operations during the month. On 20 May, a shipping reconnaissance mission carried out by four Spitfires in the morning—including Vagn Christensen in Spitfire IX MK723—revealed a lot of shipping movements in the Brest Harbour area. A force of Beaufighters armed with rocket projectiles was despatched for the area in the early evening escorted by Spitfires from 1 and 165 Sqns. Jacobsen took part in the operation flying as wingman to Flt Lt A. A. Vale, DFC, but they had to return early owing to oil on Vale's windscreen.[11]
Last operation
Two days later, on 22 May, Flt Lt Vale, DFC, led a section of four Spitfires on an offensive operation over Brittany, a Rhubarb operation. This was to become Jacobsen's final and fatal operation. At this point in time, the Allied air forces were attacking targets all over Northern France, Holland, and Belgium in preparation for the coming invasion of France. Trains transporting men and equipment in the area was an important target. However, such low-level operations against heavily defended trains were dangerous.
Jacobsen was flying as Flt Lt Vale's number two in Spitfire IX MK890. The formation made landfall at Morlaix.
Within a few hours of learning that no restrictions regarding attacks on trains had been received, F/Lt Vale led a section of 4 aircraft to Vannes-Chateaulin-Morlaix on a search for trains. They found two, one of them a troop train both of which were beaten up in no uncertain manner. Both trains being left enveloped in flames, smoke and steam. It is not known what happened to Sgt Jacobsen as after the first attack he pulled up and away from 50 ft to 1,000 ft and then dived down. He was not seen again.[12]
Jacobsen's aircraft crashed near Kérivoal–Saint Eloy. He was killed in action on his eighteenth operation, fourteen of which had been carried out during the previous three weeks.
Today was a black day for the squadron. We lost two valuable pilots F/Lt Vale, D.F.C. and Sgt Jacobsen (Denmark) as a result of a rhubarb operation. […] The squadron will miss both Alec and Jake very much.[13]
Vale had been hit by small arms fire from the troop train as he was leading the other Spitfires in a second attack. He was able to put down his aircraft, Spitfire IX MJ796, in a little field near Sizun. He was taken prisoner and survived the war. All four Spitfires in the section had been hit during the attack.
Jacobsen is buried in the St. Eloy Churchyard, Finistere, France.[14]
Endnotes
[1] DNA: Parish record, Risskov parish.
[2] Correspondence with the Jacobsen family. The documents do not reveal the presumed name.
[3] DNA: 10194/72.
[4] NA: AIR 29/556.
[5] NA: AIR 27/1439–1441.
[6] Walpole, Dragon Rampart (2007), pp. 79–80.
[7] NA: AIR 27/1439–1441.
[8] Ibid.
[9] NA: AIR 27/4.
[10] Caygill, P., In All Things First, No. 1 Squadron at War 1939-45, 2009, p. 196-200.
[11] NA: AIR 27/4.
[12] Ibid.
[13] Ibid.
[14] CWGC.