Gunnar Abildgaard
(1918 - 1945)
Profile
Seaman First Class Gunnar Abildgaard served in the US Navy as a naturalised US Citizen. He died in the kamekaze attack on the aircraft carrier USS Bunker Hill on 11 May 1945. He was one of two Danish born casualties in the attack.
Gunnar Abildgaard was born on 18 July 1918 in Aalborg. He was the son of tailer Anders Johan Abildgaard and Angelica Frederikke Mathilde Abildgaard (née Jensen).[1]
The family emigrated to the USA in 1923 arriving in New York onboard SS Frederik VIII on 25 June 1923.[3] They settled in Georgia. Abildgaard was married to Montine Bass on 12 September 1938.[3] He filed a petition to become US Citizen on 6 October 1942.[4] It is likely, that he was naturalised in the USA before enlistment.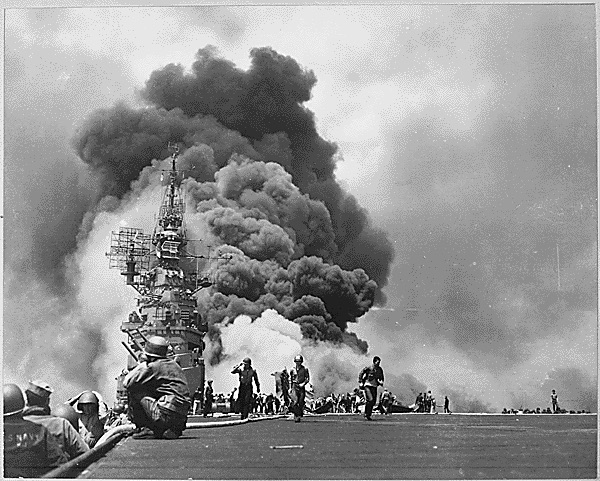 USS Bunker Hill
Abildgaard enlisted in the US Navy. I have few details on his service.
He enlisted on the USS Bunker Hill (CV-17) on 10 January 1945.[5] He held the rank of Seaman, First Class (9346556) at the time. Bunker Hill was the flagship of Task Force 58. From mid-February 1945 the carrier supported the Iwo Jima landings as well as the raids against Honshü and the Nansei Shoto. In April, the carrier operated against the Imperial Japanese Navy forces in the East China Sea. This included the attack and sinking of the Japanese battle ship Yamato. On 11 May 1945, while supporting the invasion of Okinawa, USS Bunker Hill was attacked and severely damaged by two kamikaze planes (Mitsubishi A6M Zero). The attack left 389 men dead or missing and 246 wounded. US Marine Corp units lost 30 men.
Abildgaard was one of the casualties of the attack. He was buried at sea.[6]
Endnotes
[1] DNA: Parish registration, Aalborg Vor Frue parish.
[2] New York, Passenger Lists, 1820-1957.
[3] Georgia, Marriage Records From Select Counties, 1828-1978.
[4] Georgia, Naturalization Records, 1893-1991.
[5] Ancestry: U.S. World War II Navy Muster Rolls, 1938-1949 (January 1945).
[6] Ancestry: U.S. World War II Navy Muster Rolls, 1938-1949 (May 1945).