LAC Thorkil Peter Niels Enevoldsen Hansen
(1884 - 1949)
Profile
LAC T. E. Hansen enlisted in the Royal New Zealand Air Force aged 58 in March 1943. He was born in Denmark in 1884, but emigrated to New Zealand in 1916.
Thorkild Peter Niels Enevoldsen Hansen was born on 12 September 1884 in Sorø, the son of Mads Hansen og Augusta Sophia Juliane Hansen (née Nielsen).[1] He trained as a carpenter before serving in the Danish Army in 1907. He then served as a Gerdarme in the Royal Danish West Indian Gendarmerie Corps in 1909-1912.[2] In 1916, he emigrated to New Zealand[3] and was naturalised in 1924.[4]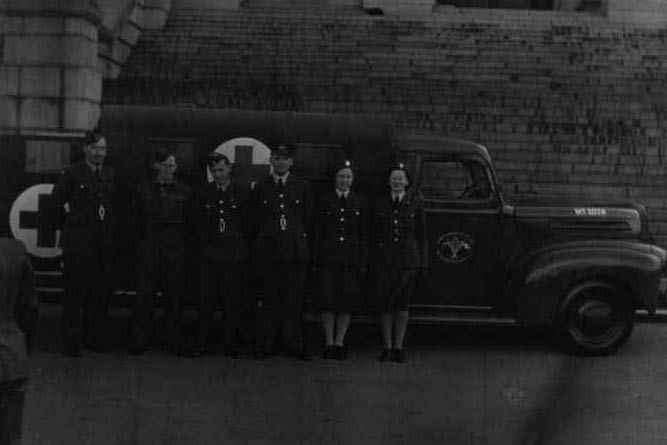 Hansen enlisted as an aircraftman first class (AC1) for guards and patrol duties in the Royal New Zealand Air Force on 27 March 1943.[5] After a couple of months of initial training he was transferred to 61 (Radar) Squadron at Rongotai. This unit had replaced 2 Radar Flight in 1942 and was responsible for radar stations from New Plymouth to the Clarence River.[6]
Hansen was among the participants, when the Danish Association in New Zealand presented the donation of an ambulance to the Royal New Zealand Air Force on 10 October 1943.
He was promoted to Leading Aircraftman (LAC) on 1 October 1943. Later that year, he was transferred to 60 (Radar) Squadron at Helensville. This suggests that he served at 22 Transportable Radar Unit, Kaipara (Helensville, Parakai).[7] In early 1944, as this unit closed, he was transferred to the RNZAF training camp at Swanson. Hansen was discharged on his own request on 23 May 1945.[8]
Hansen was one of eleven recipients of the King Christian X Memorial Medal in New Zealand in February 1948.[9] He died in Auckland on 2 April 1949.[10]
Endnotes
[1] DNA: Parish register, Sorø sogn.
[2] DNA: Det Vestindiske Gendarmerikorps, Hovedstyrken i Christiansted, Mandskabsruller for Gendarmerikorpset, 1907 - 1917.
[3] Ancestry: UK and Ireland, Outward Passenger Lists, 1890-1960.
[4] ANZ: Naturalisation - Application - Hansen, Torkild Peter Niels E. [Enevoldsen] (R24211544).
[5] DNA: UM 48.Y.90 New Zealand and correspondence with Errol Martyn.
[6] Ross, J. M. S. (1955). Royal New Zealand Air Force. Wellington: War History Branch, Dept. of Internal Affairs, p. 116.
[7] Simmonds, E. (1995). Echoes over the Pacific: an overview of allied air warning radar in the Pacific, from Pearl Harbor to the Philippines campaign, p. 37.
[8] DNA: UM 48.Y.90 New Zealand.
[9] Danish War Medal, New Zealand Recipients. Evening Post, 24 February 1948.
[10] Ancestry: New Zealand, Notices of Deceased Estates, 1880-1950.