Lt Col Jens Andersen Norgaard
(1916 - 1989)
Profile
Jens A. Norgaard was born in the Danish West Indies in 1916 shortly before the transfer of the island to United States. On D-Day he was the lead pilot of the Marauder attacks on Utah beach supporting the landing. He was a U.S. Citizen.
Jens Andersen Norgaard was born in Christiansted on the Danish West Indies on 26 October 1916, the son of the son of first pilot Anders Jensen Norgaard (b. 1878) and Elna M. Norgaard (1886-1887).[1] Both parents were born in Denmark.[2]
On 31 March 1917 the Danish West Indies was sold to United States and named the United States Virgin Islands. The inhabitants became U.S. Citizens unless they preferred to remain Danish citizens. The family decided to become U.S. Citizens and to change their name from Nørregaard to Norgaard. In the 1920s they moved from the Virgin Islands to New York City and later to Iowa.[3]
Norgaard attended the Iowa City High School[4] and, in 1939, he was end on the famed 1939 "Ironman" football team.[5] He graduated from the University of Iowa in 1940 with a degree mechanical engineering.[6]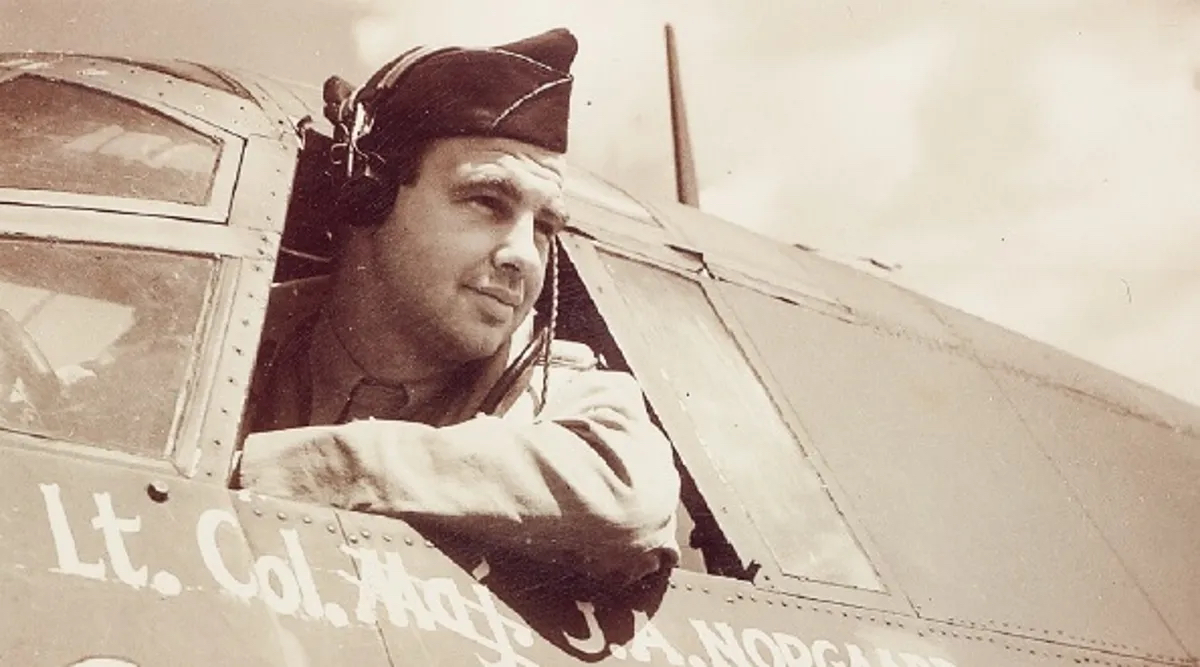 Norgaard enlisted in the U.S. Army, Air Corps, as aviation cadet in Fort des Moines, Iowa, on 28 May 1941. He was trained as pilot.
In June 1944, Norgaard was attached to 344th Bombardment Group holding the rank of Major. The 344th BG was to lead the 387th, 397th, 394th, 323rd and the 386th BGs in an attack the coastal batteries at Utah Beach. The first aircraft was to bomb at 0605 hrs and the last at 625 hrs – H-hour minus 5 minutes.
Lead Pilot on D-Day
Norgaard was the lead pilot of the formation of more than 400 B-26 Marauders. At 0412 hrs he took off in B-26 (42-95876, Y5-S, "Mary Jo" - named after is wife) from Stansted (station 169). The Marauders found their marks on the ground with great precision and – with a loss of one aircraft – 344th had a remarkable success.
Jens A Norgaard died on 24 September 1989 in Florida.
Endnotes
[1] Ancestry: U.S., Social Security Applications and Claims Index, 1936-2007.
[2] Ancestry: 1920 United States Federal Census.
[3] 1930 United States Federal Census; 1940 United States Federal Census.
[4] Hawkeye Recap, https://hawkeyerecap.com/player.asp?id=1314 (accessed on 6 June 2021).
[5] 1939 Iowa Hawkeyes football team, Wikipedia, https://en.wikipedia.org/wiki/1939_Iowa_Hawkeyes_football_team (accessed on 6 June 2021).
[6] Obituary, The Gazette, Cedar Rapids, Iowa, 27 Sep 1989, p. 14.